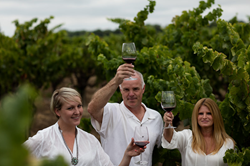 …We have always set out to do something a little different. From creating a new wine category, Spiced Wine to transitioning to a boutique winery and now a new Signature Collection of wines...
Sonoma, CA (PRWEB) September 29, 2015
Spicy Vines is making an incredible first impression with the release of its newest wines from their Signature Collection, which has already earned a Gold Medal. Spicy Vines is producing high-quality handcrafted wines and offering an unparalleled wine tasting experience.
In June, Spicy Vines introduced their new Signature Collection at the 2015 San Francisco International Wine Competition where they received a Gold Medal for their 2012 Zin Master, a Sonoma County Zinfandel (91 points). The flavors are masterfully balanced with hints of wild raspberries, dark cherries and blackberries that seamlessly blend together with cacao and undertones of cardamom, sage, anise and cedar. Each of the Spicy Vines' wines is beautifully handcrafted to expose their unique depth and structure.
According to Doug Hackett, the Winemaker and the man behind the Signature Collection, "All of our wines are made with heart, soul and a hint of spice." Hackett is a renowned artisan winemaker from Healdsburg, who has earned numerous 90+ points ratings within his winemaking career, including awards for Dogwood Cellars. Spicy Vines selected Hackett to join the Spicy Vines team to develop a Signature Collection embracing natural hints of spice to include; Zinfandel, Syrah, Petite Syrah, Pinot Noir and Gewürztraminer to name a few.
Spicy Vines has partnered with some of the most celebrated vineyards in Sonoma County, Napa County and other California vineyards that craft artisan wines with balance, elegance, and purity. Spicy Vines' vineyard sites are located within the heart of some of the finest grape growing regions in the world such as, Dry Creek Valley, Carneros and the Russian River Valley. Each vineyard provides a unique combination of soil type, elevation, age, exposure and natural influences that give a range of flavors and variety to Spicy Vines' growing collection of artisan wines.
Prior to launching their Signature Collection, Spicy Vines introduced its proprietary red wine blend infused with fruit, spices and spirits in 2012. Spicy Vines' Original Blend of spiced wine has since become known for its unparalleled creativity, versatility and quality among wine enthusiasts. Spicy Vines' Original Blend is delicious when mixed in a cocktail or sangria and even heated to emulate a more refined version of its European counterpart of Mulled Wine-Glühwein. Original Blend won a Gold Medal Award in 2013 (90 points) and several People Choice Awards.
Crystalyn Hoffman, Co-founder and President of Spicy Vines said, "At Spicy Vines, we have always set out to do something a little different. First, we worked with the Alcohol Tax and Trade Bureau to create a new category of wine called Spiced Wine, and now with our transition to a boutique winery and a new Signature Collection, we offer wine tasting experiences unlike any other."
Spicy Vines executives credit the success of Spicy Vines to their experience in wine tasting, making and drinking the finest wine and having a highly qualified, dynamic team. Hoffman, founded Spicy Vines' Original Blend; Toni Andrews, Managing Partner, comes from a family legacy of seasoned southern heritage Musadine wine makers and Hackett has more than 15 years in the wine making industry.
Spicy Vines now offers an exclusive Wine Club. For a limited time only, the company is offering to the first 100 people who join the chance to become Founding Club Members. The Founding Club Members in the Wine Club will be the first to receive information and discounts on all new releases and options to purchase limited edition wines. Spicy Vines Wine Club members will receive monthly newsletters, special offers and private invitations to exclusive wine tasting events and winemaker dinners. Spicy Vines is also expanding their case production, making their wine collection more available through California retailers and opening a new tasting room in Northern California towards the end of 2015.
Connect with them at http://spicyvines.com. Follow Spicy Vines on Facebook.com/SpicyVines Twitter.com/SpicyVines and Instagram.com/SpicyVines
For Media Inquiries, Interviews, or Events, please contact Lisa Hart at SoCal TV & PR at lisa(at)socaltvandpr.com
Lisa Hart
SoCal TV & PR
Broadcasting | Public Relations | Social Media
California
Phone: 949.697.1606
Email: lisa(at)socaltvandpr(dot)com
Twitter: (at)SoCalTVPR