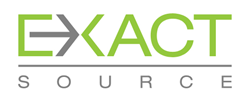 Our values remain the same, but the updated website and brand reflect the vision for ExactSource moving forward.
Atlanta, GA (PRWEB) September 08, 2015
ExactSource, a national leader in the delivery of talent management solutions and software to architectural and engineering firms, is pleased to announce the launch of it's new website.
The new website features an enhanced client experience, user-friendly candidate functionality, and places greater emphasis on the company's additional service offerings, including education, market research, and speaking engagements.
"We've created a more streamlined user experience and built a site that offers direct integration with our software solutions," says ExactSource COO Katy Young. "Our values remain the same, but the updated website and brand reflect the vision for ExactSource moving forward."
The launch of the new ExactSource website comes at a time of rapid expansion and growth for ExactSource who, in the last year, has added 4 key members to their executive team; launched Ingenium, a sister marketing company; developed ExactAcademy, an educational platform through which engineers can earn on-demand professional development hours; and introduced ExactPro, a skills management software solution for A/E/C firms.
Since launching in 2012, ExactSource has built up a significant client base in the architectural and engineering industry, including 20 firms on the Top 500 A/E list. The new website can be seen at: http://www.exactsource.com
About ExactSource:
ExactSource is the leading recruiting, organizational consulting, market research, and software solutions company providing services to firms in the Architectural and Engineering sector.
ExactSource is best known in the A/E/C industry for their highly acclaimed ExactProfile technology, a system released in 2012 that assesses and catalogs more than 115 critical engineering skill sets and experience levels that aren't typically identified on a resume. Using this breakthrough screening software, HR managers are able to instantly identify the technical candidates that meet their exact requirements. This methodology provides a smarter way to hire and it is the objective of ExactSource to have every A/E/C firm across the country using ExactProfiles as part of the hiring process.
For more information about ExactSource and their consulting, research, and recruiting services, visit their website or contact David Schmidt at dschmidt(at)exactsource(dot)com.