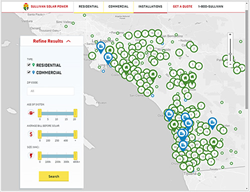 Our customers are sophisticated, they want evidence their investment is safe with us.
SAN DIEGO, Calif. (PRWEB) September 08, 2015
Sullivan Solar Power, a regional solar provider founded in 2004, recently launched a new website already nominated for both a Davey and W3 award for excellence in digital design. The new website was engineered using the science of user behavior analytics and the latest technology in rendering on mobile devices. One of the nation's top digital creative firms, Neo-Pangea, was employed to design the site's minimalist and contemporary aesthetics. Neo-Pangea's clientele include National Geographic, Smithsonian and CBS.
An industry first, the website includes an interactive map of Sullivan Solar Power's over 4,200 installations spread throughout Southern California. Website visitors can zoom, drag, and filter map markers based on criteria such as system size, zip code or age of system. Many map markers can be clicked to reveal a case study of the installation complete with a customer testimonial, system details and photos.
The map is the first of its kind within the solar industry and is also an indicator of an industry that is continuing to boom. Solar has grown so much in San Diego that it's almost at the full capacity of rooftop solar allowed in San Diego Gas & Electric's territory under the current agreement, called net metering. Those who wait to go solar after net metering ends, may see significantly less savings under the new agreement. Due to the upcoming changes, there is currently a solar gold rush, as the industry has claimed, with more homeowners searching online for solar information.
"At Sullivan Solar Power we offer our clients the highest quality products, quality people and quality systems, so providing an excellent website in today's market where the majority of our website visits are on tablets or mobile phones, was a no-brainer," said Daniel Sullivan, founder and president of Sullivan Solar Power, "We pride ourselves on solar education without a sales pitch, and our website is a convenient and easy place for people to gather information about solar in Southern California."
The purpose of the website redesign was to quickly and easily deliver visitors the content they are looking for to educate themselves on the benefits of going solar, and who Sullivan Solar Power is as a company.
"We did away with much of the marketing noise and sales pitches you see on most solar websites, and replaced it with either informative content or whitespace," said Michael Chagala, director of Information Technology at Sullivan Solar Power, "Our customers are sophisticated, they want evidence their investment is safe with us, not offers of gift cards or advertising campaigns."
For more information about solar in Southern California or to view the newly relaunched website, visit http://www.SullivanSolarPower.com .
About Sullivan Solar Power
Sullivan Solar Power is a turnkey solar system provider that delivers solar electric projects from concept to completion. The company has installed more than 30,000,000-watts of solar power ranging from small-scale residential to large-scale commercial and municipal systems. Sullivan Solar Power is headquartered in San Diego, Calif., with satellite offices in Irvine and Riverside and is owned and operated by Daniel Sullivan. Sullivan Solar Power has a longstanding A-plus rating with the Better Business Bureau, with no complaints filed since the business began. The firm has been named one of the fastest growing energy companies in the nation by Inc. Magazine for three consecutive years and services all of Southern California. Regardless of project size and scope, Sullivan is committed to delivering the best products and the most qualified professionals to its customers. Visit http://www.sullivansolarpower.com for more information.
###