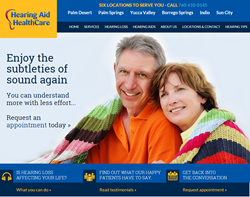 Palm Desert, CA (PRWEB) September 08, 2015
Sounds can evoke powerful emotions, from the bursts of a fireworks display on a summer night to the tapping of rain drops on a relaxing day at home. Our emotional lives are greatly impacted by sound on a daily basis, but how does the brain generate these emotional responses?
In a recently published article titled 6 Ways Your Brain Transforms Sound Into Emotion, Hearing Aid HealthCare summarizes the recent research that helps to explain how individuals react emotionally to sound. Specifically, the article describes six psychological mechanisms by which the brain evokes emotions.
The first mechanism is referred to as the brain-stem reflex, characterized by immediate arousal to any sound that is abrupt or loud. This response is hard-wired into the brain to alert people to potentially dangerous sounds. Similarly, our enjoyment of music is based on how the brain is hard-wired to perceive and structure rhythm, melody, and other musical elements.
Other emotional responses to sound, rather than being hard-wired, are learned responses. Sounds associated with pleasant or depressing memories, for example, retain their emotional power. A song played on an individual's wedding night might evoke feelings of joy, whereas a song heard during a funeral may evoke the opposite feelings.
Additional mechanisms include the visual imagery associated with sounds, and emotional contagion, whereby people "feel" the emotions of others simply by watching them. For example, when others start to laugh or cry, it's difficult not to feel similar emotions.
The strong link between sound and emotion is of great significance for those with hearing loss. Because sound has a powerful emotional component, those with hearing loss also lose some of the emotional force associated with certain sounds. For example, music loses some of its potency when certain instruments can't be heard, and walks in nature lose their full impact when faint sounds, like flowing water or chirping birds, cannot be heard.
According to Hearing Aid HealthCare, the use of hearing aids not only enhances an individual's hearing—it also frequently improves an individual's emotional life as they are once again able to hear the sounds that trigger positive emotional reactions.
About Hearing Aid HealthCare
Hearing Aid HealthCare has served the Coachella Valley area for over 18 years. They offer a full range of diagnostic and preventative hearing healthcare professional services, including hearing aid screening, evaluations, hearing aids sales and rehabilitative and preventative counseling. Hearing Aid HealthCare is dedicated to keeping abreast of the latest improvements in technological advancements in the hearing industry and are committed to offering the most current options to its patients.
Contact:
Jeannette Hait
Hearing Aid HealthCare
760-610-0145
http://www.hahc.net