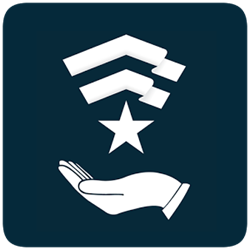 To achieve our mission of improving the lives of veterans, we continuously strive to enhance and expand our miliSOURCE app.
Stamford, CT (PRWEB) September 08, 2015
To further deliver on the company's mission of connecting and improving the lives of veterans, Defense Mobile released version 1.2 of its free miliSOURCE app for iPhone and Android smartphones. This update enhances the overall user experience of the miliSOURCE app, further showcases Defense Mobile's partnership with the American Legion and includes the most recent veterans benefits data.
Defense Mobile's miliSOURCE app helps veterans discover and manage the benefits they have earned. Using a unique, profile-based approach, the miliSOURCE app provides veterans with personalized recommendations of benefits from a proprietary database of nearly 1,000 benefits. The database includes benefits from the VA, state veterans agencies, and private veteran service organizations.
The miliSOURCE app also includes a variety of additional benefits tools and resources to assist veterans. The app includes the full VA Benefits Book and access to Military.com's benefits articles. In addition, the Post-9/11 GI Bill Comparator enables veterans to determine the amount of compensation they are eligible to receive at various schools and vocational training programs. The Veterans Facilities lookup tool allows users to find information and locations for over 12,000 facilities in all 50 states, the District of Columbia and Puerto Rico. Once a veteran finds a facility, he or she can get turn-by-turn directions using his or her phone's navigation software. The State Benefits lookup tool allows veterans to quickly view all the benefits available in any state or territory, including the District of Columbia. and Puerto Rico. If a veteran wants to speak with someone, the Call Support screen makes it easy for him or her to place a call to the VA, a local VFW service officer or their state's veterans department.
The new update involves several improvements to this already useful app including:

Updated Veterans Facilities database with over 6,000 additional American Legion posts
Updated veterans benefits data
Enhanced share forms emails
Updated wartime periods profile question that expands Gulf War era options
Improved login warning and error messages
Bug fixes and stability improvements
"To achieve our mission of improving the lives of veterans, we continuously strive to enhance and expand our miliSOURCE app. Version 1.2 includes a number of upgrades that maintain miliSOURCE's position as the leading veterans benefits mobile app," said Ward Bond, Head of Value Added Services. "Many of the updates in this version are in response to feedback from the thousands of veterans who are already benefiting from the miliSOURCE app."
The new version 1.2 of the miliSOURCE app is available for download in the Apple App Store and Google Play App Store today.
miliSOURCE users with Android and iPhone devices will automatically get the update if they have automatic app updates enabled on their phones. Otherwise, they will need to check their app store accounts and manually initiate the update.
About Defense Mobile
Defense Mobile is a nationwide 4G mobile service, built by veterans, supported exclusively by veterans and designed to improve the lives of those who have served. Defense Mobile offers outstanding rates, the most popular smartphones, no-contract plans, meaningful cash back rewards and miliSOURCE, an application to help veterans find and manage the benefits they have earned. Defense Mobile has secured agreements to run on the nation's largest and most trusted networks to ensure that veterans, military service members and their families receive superior coverage. To learn more, visit http://www.defensemobile.com