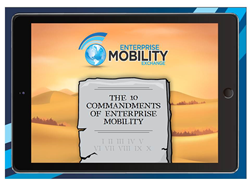 London, UK (PRWEB UK) 10 September 2015
The Enterprise Mobility Exchange has released their 10 Commandments of Enterprise Mobility - a quick guide for building mobile strategies successfully.
Enterprise mobility practitioners everywhere have faced many challenges and experienced a wealth of different outcomes to their experimentation with mobile technology, but businesses can't just sit idly by waiting for divine intervention to perfect their mobile strategies for them.
The necessary steps which must be taken in order to ensure a user friendly, secure, and cost-effective strategy for mobilizing a business are not easy, but with the global market for enterprise mobility expected to grow to as much as $11.20 billion by 2022, it is time to fully embrace the sacred trend once and for all.
To help educate the wider community and provide guidance towards a harmonious mobile enterprise, the 10 Commandments of Enterprise Mobility (http://bit.ly/1LVd557) presents readers with insight from five leading influencers in enterprise IT and mobility.
The gospel according to these practitioners will offer a unique look at lessons learned and suggestions for success, looking into core components of enterprise mobility such as user experience, security and more.
Download your copy today. http://bit.ly/1LVd557
---Ends---
Media contact: Kira Stancliffe, Deputy Marketing Director, Enterprise Mobility Exchange: kira.stancliffe(at)iqpcexchange(dot)com or call +44(0)207 368 9796
About the Enterprise Mobility Exchange
The Enterprise Mobility Exchange takes place in Las Vegas (November 16 - 18). This exclusive event is aimed at mobility professionals and business leaders who are leveraging mobile technology and services to improve operational efficiency, increase customer acquisition and loyalty, and drive increased profits across the entire enterprise.
Wherever you are on your mobility journey, share your experience, knowledge and expertise at the Enterprise Mobility Exchange.
Download the agenda for the Enterprise Mobility Exchange, Las Vegas here: http://bit.ly/1OuIlrZ