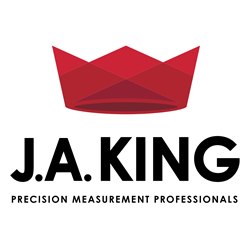 "J.A. King already has a strong presence in Oklahoma. The acquisition of Accurate Laboratories will bring additional manpower and experience, particularly in the areas of dimensional metrology and force calibration," said John King, CEO of J.A. King
Greensboro, NC (PRWEB) September 19, 2015
J.A. King, a leading ISO 17025 accredited precision measurement company, today announced that they are acquiring Accurate Laboratories, an Oklahoma City-based calibration and inspection laboratory.
The purchase of Accurate Laboratories further increases J.A. King's market share in the Oklahoma market and greatly expands its calibration and repair ability nationwide. "Combining the strength and experience of J.A. King with the expertise of Accurate Laboratories is a great thing for all of our customers," said John King, CEO of J.A. King. "J.A. King offers many additional benefits, like an entire custom engineering department and consulting, training and audit prep services."
J.A. King will merge its Oklahoma City branch into Accurate Laboratories' operation with immediate effect. "J.A. King already has a strong presence in Oklahoma. The acquisition of Accurate Laboratories will bring additional manpower and experience, particularly in the areas of dimensional metrology, force calibration and contract inspection. We're excited for the very knowledgeable people from Accurate Labs to join our team, "added King.
About J.A. King
J.A. King is a full service precision measurement and calibration company. With over twenty locations in the Southeast and Midwest, J.A. King provides quality measurement equipment, backed by the highest standards of service and calibration in the industry. For more information, please visit http://www.jaking.com