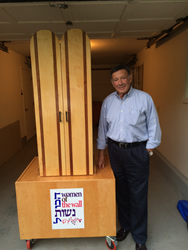 The fact that I built or am able to repair something that will be a staple in these synagogues and communities for years to come is very rewarding.
Harrison, NY (PRWEB) September 08, 2015
Bob Friedland, CEO of Friedland Realty Advisors—a full-service commercial real estate firm serving metropolitan New York, Long Island and Connecticut for 45 years—
is near completion of a much-needed repair for the wooden Holy Ark or Aron Kodesh at the Jewish Community Center (JCC) of Scarsdale in Westchester County. This repair, which Friedland has been tackling in his spare time, follows the design and creation of six Holy Arks featured locally (Sulam Yaakov in Larchmont and Temple Israel in White Plains), nationally (Florida) and internationally (three are featured in synagogues in Israel).
"I love this craft because it encompasses hours of woodworking for an end product which will be beautiful and used for a holy purpose. What a great feeling," Friedland said. "The fact that I built or am able to repair something that will be a staple in these synagogues and communities for years to come is very rewarding."
Friedland took up woodworking eight years ago and found a mentor in the most unlikely of places: While out purchasing his first set of tools, a fellow customer in the aisles of Home Depot offered to teach him the trade. Several months later, Friedland's wife, Sheila, put him in contact with Sulam Yaakov who was in need of an Aron Kodesh, the ornamental closet which contains the synagogue's Torah scrolls. The experience inspired him to pursue more opportunities to create the arks, which when possible are located on the wall of the synagogue closest to Jerusalem.
Rabbi Alfredo Borodowski worked with Friedland on the creation of the Aron Kodesh at Sulam Yaakov. "Bob's hands and feet gave expression to our sacred aspirations," Rabbi Alfredo said. "The ark became a gate for our prayers and Bob opened that gate for us."
Friedland plans to deliver the repaired Aron Kodesh to the JCC of Scarsdale in advance of the Jewish High Holy Days. He resides in White Plains and Friedland Realty Advisors has offices in Harrison and New York City.
About Friedland Realty Advisors:
Friedland Realty Advisors is a full-service commercial real estate firm with a 40+-year-pedigree serving metropolitan New York and the Tri-State area, with a focus on Westchester and the Bronx. With offices in both Harrison and Manhattan, the firm also handles properties and clients in Putnam, Rockland, Connecticut and New Jersey. Friedland Realty relies on a team of talented, veteran brokers who represent properties in retail, industrial, office and investment sales markets. Friedland Realty's brokers are supported by cutting-edge technology and databases that allow its brokers to find their clients the best lease or purchase options available. Friedland Realty Advisors is located at 440 Mamaroneck Avenue in Harrison, NY and can be reached at (914) 968-8500 or by visiting http://www.friedlandrealty.com.