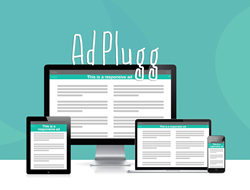 The ads are able to resize themselves so that they look great on any size screen.
San Diego, CA (PRWEB) September 09, 2015
San Diego based online advertising company, AdPlugg, added responsive HTML5 ads as well as 10 other ad formats to their ad serving system. This launch coincided with Google's announcement several days ago that it would be switching all Flash based ads to the HTML5 ad format. AdPlugg's launch of "responsive" HTML5 ads takes the next step by using responsive layouts to automatically adjust ads to display crisply on any size screen, from iPhone to JumboTron. All of the new ad formats can be seen on AdPlugg's new demo site at http://www.adplugg.com/demo.
The AdPlugg ad system is used by more than 4,500 publishers across the web to manage and serve their advertisements. In addition to the new HTML5 ad format, AdPlugg also launched support for bar ads, slide-in ads, dialog-ads, video ads, and interstitial ads. These new ad formats will allow publishers of any size to bring modern advertising to the modern web.
HTML5 ads are an open-source, rich media, ad format that is rapidly replacing the decade old Adobe Flash standard. HTML5 ads offer the same capabilities as Flash, such as high quality animations and graphics but their open source nature make them safer and more readily supported by a large variety of devices.
AdPlugg brings a new progression to HTML5 ads by allowing them to be responsive. By making them responsive, the ads are able to resize themselves so that they look great on any size screen. Speaking on responsive ad formats, AdPlugg CEO Collin Krawll remarked "These types of advertisements are the future of the web. To maximize effectiveness, ads need to respond and optimize themselves for display on a large variety of devices." Traditional fixed-sized ads can be too small to read on phones and too blurry to read on large monitors, whereas responsive ads stay crisp and legible on all devices.
In addition to HTML5 ads, AdPlugg also launched a number of other responsive ad formats. Their new "Bar Ad" format displays a bar across the top or bottom of the screen that resizes based on the user's screen size. They also added "Dialog", "Interstitial" and "Slide-In" formats all of which automatically resize to optimally fit the user's screen.
To round out their offering, AdPlugg's latest release included new support for modernized traditional formats including text ads, Flash ads, and video ads.
Already seen as one of the quickest, easiest and most affordable ad serving systems; AdPlugg has experienced rapid growth and adoption since its launch in 2013. These new ad formats establish the company as a leader of advertising innovation on the modern web. In addition, the new formats give publishers the opportunity to maximize ad revenue while providing great value to their advertisers and a great experience for their readers.
About AdPlugg
Based in San Diego, California, AdPlugg offers a simple but sophisticated plugin and service that allows web based publishers and advertisers to build their businesses. The AdPlugg advertising plugin installs instantly into any website opening up a myriad of controls, options and analytics available through adplugg.com. AdPlugg benefits advertisers by giving them an exciting and affordable way to get in front of their target market through online advertising.
To learn more about AdPlugg, visit http://www.adplugg.com.
AdPlugg, and the AdPlugg logo are trademarks of AdPlugg. Other company and product names may be trademarks of their respective owners.