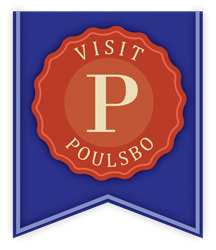 "This is the answer for online marketing for Poulsbo" - Brad Miller
Poulsbo, WA (PRWEB) September 09, 2015
The Poulsbo Marketing Coalition announced today the launch of Poulsbo's tourism and community website, http://www.VisitPoulsbo.com. The full-featured website is optimized for mobile users and has extensive content about Poulsbo area businesses, attractions, and events. The website is accessible now, and, in addition to providing online advertising opportunities for local businesses, it includes a comprehensive calendar of events of interest to both Poulsbo community residents and visitors to the greater North Kitsap area.
VisitPoulsbo.com takes advantage of the popular search term, "visit," which tourists use, and people relocating to a new area find useful, when searching on the Internet for information and resources. The Poulsbo Marketing Coalition (PMC) has been collaborating with The Rockfish Group to build this online resource for the past two years under the address "FindPoulsbo.com," and has now launched the fully developed and already popular website under its new name, VisitPoulsbo.com.
"With 'Find,' the PMC was going for the most effective and sustainable way to provide comprehensive and timely information online, with frequent updates, and a simple, efficient user experience," said Port of Poulsbo manager, Brad Miller, "We found the perfect solution with VisitPoulsbo.com, and we are excited about how popular it already has become. This is the answer for online marketing for Poulsbo."
The website's popularity has grown significantly, from about 20 online visitors per day and about 3000 page views per month, earlier this year, to about 100 visitors per day and about 6000 page views, as measured in the month of July. According to the PMC, online visitors to VisitPoulsbo.com are "qualified" visitors, which means they are people in search of information about services, events, retail offerings, restaurants, and hotels specific to the Poulsbo area, unlike "unqualified" visitors, who might end up on a website that covers a larger area, such as all of Kitsap County, and who wouldn't necessarily be interested in information about Poulsbo.
"Our goal has always been to develop a reliable and sustainable way to ensure Poulsbo's main website — including the Community Calendar, for example — will remain both comprehensive and detailed enough to serve everyone's interests," said Kelle Kitchel-Cooper of The Rockfish Group. "So we're very proud of the result, and we've gotten wonderful feedback from downtown Poulsbo businesses, local hotels and restaurants, and community event organizers."
"When you look at how Poulsbo is situated geographically, we really are in the heart of the Puget Sound," said Marc Abshire of the Poulsbo Chamber of Commerce. "We are near to everything. You name it — the Olympic National Park, Seattle, Port Townsend, Port Ludlow Resort, Clearwater Casino, Bainbridge Island, Edmonds, Olympia — it's all within easy reach of Poulsbo. Add to that the improving economy and tourism on the upswing, with double-digit increases year-over-year. The PMC is hyper-focused on taking advantage of that growth, and we have big expectations for VisitPoulsbo.com. This is the website everyone goes to, for example, when they sign on to the Kitsap PUD's free wireless network access service in downtown Poulsbo, 'community_wifi.' We want downtown businesses to be able to take advantage of that online traffic as well."
The Poulsbo Marketing Coalition is a collaborative effort to bring more visitors to Poulsbo. Its members include representatives from the Port of Poulsbo, Viking Fest Corporation, Poulsbo Farmers Market, the Poulsbo Historical Society, the Poulsbo Chamber of Commerce, and the newly forming Viking Avenue Business Association.