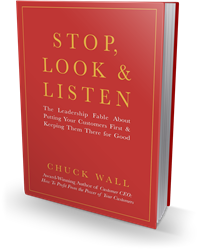 Wall lays out a road map for profitable growth for every business.
Boston, MA (PRWEB) September 08, 2015
Bibliomotion is pleased to announce the release of new hardcover, "Stop, Look & Listen: The Leadership Fable About Putting Your Customers First and Keeping Them There for Good" by Chuck Wall.
In this leadership fable, Wall lays out a road map for profitable growth for every business. He applies the principles from his first book "Customer CEO" to a real-life and relatable tale to show leaders how to understand their customers' needs and profit from their power.
About Stop, Look & Listen:
Sales have dropped precipitously. The board is meeting next week. Bob, founder and long-time CEO, is urged by his team to hire an expensive management consulting firm and drastically cut costs as a last ditch effort to improve the company's bottom line.
Stop, Look, and Listen is the story of how Bob puts the principles put forth in Chuck Wall's Customer CEO: How to Profit from the Power of Your Customers to work. Bob has been running his company as if he controls the customers. Bob is urged to Stop, Look, and Listen, because today, the customers are in control. They are the bosses, the Customer CEOs, and they control the company's destiny.
Bob must learn to understand his customers' needs, and more importantly, embrace their power. The three essential steps are to STOP seeing things from the corporate CEO's point of view, LOOK at everything from the customer's point of view, even when it hurts, and LISTEN deeply for what the customers' needs are. This short, entertaining business tale chronicles Bob's ultimate recognition of his customers as CEOs.
About Chuck Wall:
Chuck Wall is the founder of MarketPower Group, a business performance advisory firm. In his work, Chuck has interviewed over 100,000 of his clients' customers to understand their unmet needs in today's market. As a lifelong entrepreneur, he has a deep understanding of customer insight, business strategy, branding, marketing, and team building. He has also successfully launched six other companies in multiple industries including manufacturing, broadcasting, technology, research, insurance, and advertising. As a trusted advisor, Chuck has helped hundreds of companies, from the Fortune 100 to startups, acquire hundreds of thousands of new customers. He is also the author of Customer CEO: How to Profit from the Power of Your Customers (Bibliomotion 2013). He is a contributor to Forbes and Fast Company to build a better business future. Chuck lives in San Antonio, Texas. Learn more at chuckwall.com
About Bibliomotion:
Bibliomotion is a book publishing house designed for the new publishing landscape. While many publishers work to retrofit old processes for new realities, Bibliomotion was founded by book-industry veterans who believe the best approach is a fresh one – one that focuses on empowering authors and serving readers above all else. Moving away from the top-down model that has dominated the publishing process for years, we give each member of the team – including the author – a seat at the table from the very beginning and in doing so, work side-by-side to launch and sell the best content possible, making it available in a variety of forms.