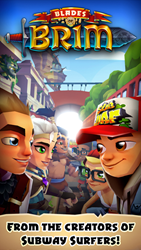 (PRWEB) September 09, 2015
Blades of Brim was featured on NewsWatch as part of its monthly AppWatch, which takes a look at the latest and coolest applications on the market for iOS, Android, and Windows. Joe Toohey, the host of AppWatch and technology expert, conducted the app review and shared with viewers how this unique endless running game has received editors' choice on iTunes.
With the success of games like Temple Run, endless running games have become extremely popular in the mobile app department. There are many endless running games but there's a newexciting way to save the world from an army of Goons. game that offers a totally different experience. It's called Blades of Brim and it's the most
Blades of Brim is loaded with cool extras and unexpected surprises around every corner. It has an open world feel to expanding elements of gameplay. Users can forget just running, because they can fly around, jump, wall run, ride magical creatures and travel through inter-dimensional portals and other worlds.
Running in this game is only part of it, players get points from slaying monsters with legendary weapons in massive combos. This unique game is really about interacting with the game elements. With 4.65 out of 5 stars on iTunes as well as being an editor's choice, this game is sure to grab attention. Blades of Brim is currently available for iOS but an Android version's coming really soon.
To learn more, visit http://sybogames.com/blades-of-brim/ today.
About NewsWatch
NewsWatch is a weekly 30-minute consumer oriented television show that airs on the Discovery Channel and ION Network. NewsWatch regularly features top technology products and services, mobile applications for iOS, Android, and Windows devices, unique and beautiful travel destinations around the world, health and medical tips, and entertainment interviews on the show. NewsWatch airs on the Discovery Channel at 7:00 – 7:30 AM ET/PT.
NewsWatch is located in the greater Washington, DC area and has been on air for over 25 years. For more information or to watch the most recent episode, visit http://newswatchtv.com/appwatch.html.