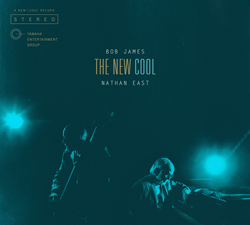 Nashville (PRWEB) September 08, 2015
Yamaha Entertainment Group of America today announced the release of a new single from legendary keyboardist Bob James and master bassist Nathan East titled, "Crazy." The single is part of the longtime collaborator's debut duo album, The New Cool, and can be purchased on iTunes.
James and East created an imaginatively arranged version of the song originally penned by Willie Nelson, and made famous by Patsy Cline, "Crazy." The melody bops and swings in sublimely surprising style before the ultimate surprise is revealed: serendipitous vocals from country singer-songwriter, Vince Gill.
Yamaha Entertainment Group founder and vice president Chris Gero put James and East in the recording studio, equipped them with state-of-the-art Yamaha gear and gave them free reign to create. Recorded entirely in Nashville, the long-time collaborators emerged with an unexpected and audacious collection of original compositions plus a few handpicked classics. The New Cool is an acoustic jazz offering that will make you forget everything you thought you knew about these GRAMMY-recognized artists best known as contemporary jazz luminaries. The full album produced by Gero, James and East will be released September 18. Pre-order on iTunes here.
James is a two-time GRAMMY Award-winning jazz keyboardist, arranger and producer. He is recognized as one of the original founders of smooth jazz. His compositions, "Nautilus" from 1974's One and "Take Me to the Mardi Gras" from 1975's Two are among the most sampled songs in the hip hop industry. East is a bassist who has performed with everyone from Quincy Jones and Eric Clapton, to George Harrison, Michael Jackson, Whitney Houston, Beyoncé and Stevie Wonder, among many others, including the 2014 GRAMMY Record of The Year, Daft Punk's "Get Lucky."
About Yamaha Entertainment Group of America
Yamaha Entertainment Group of America is a boutique, one-stop shop, record label developed to be the champion of the musician with the backing power of the largest music manufacturer in the world. Yamaha Entertainment Group is branding, promotion, concert production, content development, product placement, tour support, piano logistics and artist relations, all rolled into one. Home to more than 3,600 talented artists, Yamaha Entertainment Group is responsible for the development and advancement of the Yamaha brand name through numerous artist related activities worldwide.
About Yamaha
Yamaha Corporation of America (YCA) is one of the largest subsidiaries of Yamaha Corporation, Japan and offers a full line of award-winning musical instruments, sound reinforcement and home entertainment products to the U.S. market. Products include: Yamaha acoustic, digital and hybrid pianos, portable keyboards, guitars, acoustic and electronic drums, band and orchestral instruments, marching percussion products, synthesizers, professional digital and analog audio equipment, Steinberg recording products and Nexo commercial audio products, as well as AV receivers, amplifiers, wireless multiroom audio systems, Blu-ray/CD players, earphones, headphones, home-theater-in-a-box systems, sound bars and its exclusive line of Digital Sound Projectors. YCA markets innovative, finely crafted technology and entertainment products and musical instruments targeted to the hobbyist, education, worship, professional music, installation and consumer markets.
Contacts:
Michelle Cusator/Yamaha Entertainment Group
(615) 599-0800 x3387 (mcusator(at)yamaha(dot)com)
Rick Scott/Great Scott P.R.oductions
(310) 306-0375 (greatscottproductions(at)earthlink(dot)net)