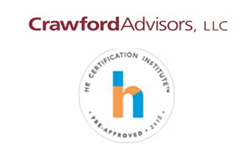 All organizations should use data to measure key indicators and to effectively manage the growing cost of benefits.
Hunt Valley, MD (PRWEB) September 14, 2015
Join Crawford Advisors Director of Data Analytics, Scott Mayer, for this complimentary one-hour HRCI preapproved webinar*, as he reviews how Health Care Reform is impacting benefit plans, data analytics and plan ROI.
PPACA reform caused a significant transformation in benefits management relating to compliance, data analytics, and plan management. In the PRE–Health Care Reform world, the combination of third-party administrators, networks, case management, utilization management, and stop loss carriers were the focal point in how the employee benefit costs were managed. In the POST-Health Care Reform world, the transformation is moving towards incentives, risk stratification/predictive modeling, value based plan designs, and connectivity. This one hour webinar will explain how these changes impact benefit plans and how HR teams can adjust in a compliant manner. Topics include:

Identifying conditions trending in cost, severity, and/or prevalence
Measuring the impacts of care gap closures on risk scores
"Low Hanging Fruit" of benefit designs can alter behavior and incentivize better decisions.​
Innovative design plans to generate ROI (independent of employee behavior changes)
Identify Prevention / Early Identification Opportunities. Developing incentive programs tied to preventive care.
Thursday, Sep 24, 2015 12:00 PM - 1:00 PM EDT
Click here to register.
Open to all HR professionals - but not brokers, agents, TPAs
This webinar has been approved for 1 HR General recertification credit hour toward California, GPHR, HRBP, HRMP, PHR, and SPHR recertification through the HR Certification Institute. The use of this seal is not an endorsement by HRCI, it means that this activity has met the HR Certification Institute's criteria to be pre-approved for recertification credit.
Crawford Advisors, LLC helps organizations design, implement and administer health, life, disability and voluntary benefit programs. The end result is a benefits program that is cost effective and maximizes employee value while meeting the needs of the bottom line. Crawford's expert team guides companies in the areas of strategic design, financial analysis, administration and employee health improvement to help deliver the best value for what has become one of the largest expenses for most organizations. Call 800-451-8519 for a complimentary executive consultation or visit http://crawfordadvisors.com.