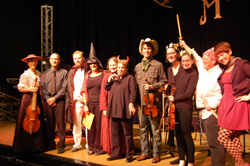 Saint Paul, MN (PRWEB) October 02, 2015
The Saint Paul Conservatory of Music is proud of their strong Renaissance and Baroque program. This month, audience members can enjoy the performance of music from historic times.
The SPCM Youth Renaissance Band is performing as part of the Saint Paul Classical Music Art Crawl from 12-2 p.m. on Saturday, Oct. 10, at Golden's Deli at 275 East 4th Street in downtown Saint Paul. Members of the youth Renaissance Band — ages 8 to 14 years old — will play tunes from Europe's renaissance period on viola da gamba and recorders every half hour. They play different public concerts throughout the year, but be sure not to miss this one!
Additionally this month, the Saint Paul Conservatory of Music is hosting a Fall Open House from 4:30-6:30 p.m. on Tuesday, Oct. 13. Come tour the facilities and find out how the SPCM can bring more musical enrichment into your life.
From 2-4 p.m. on Saturday, Oct. 31, the Conservatory will be hosting its Halloween Concert and Fundraiser at McNally Smith Auditorium at 19 E Exchange St in downtown Saint Paul. Help the SPCM celebrate their musical community at this kid-favorite concert.
Don't miss the first Coffee Concert of the season with the always-entertaining pianist and composer Peter Arnstein performing "Water Music." The free concert is at noon on Nov. 4 at the Schubert Club Museum on the second floor of the Landmark Center in downtown Saint Paul.
To learn more about October's upcoming events, visit http://www.thespcm.org.
About the company:
The Saint Paul Conservatory of Music is a music education center offering a wide range of musical instruction for all ages, in both individual and group settings. The faculty is of the highest caliber, including artists/teachers with well-established reputations. The Conservatory has systematically developed a music program with demanding, yet age-appropriate expectations, with the ability to effectively teach the youngest of students as well as prepare those seeking to become music majors. They are also able to meet the needs of students who are lifelong learners of music and music appreciation.
Since 1985, the Saint Paul Conservatory of Music has provided high-quality music education to the metropolitan community. Originally under the auspices of The University of St. Thomas, the school became an independent non-profit community music school in June 2001. The facility in downtown Saint Paul provides an exciting venue for the continuing commitment to providing excellence in music for all ages. As an independent organization, they are able to broaden their mission as a music school ensuring that quality music is available to an ever-widening segment of the community.