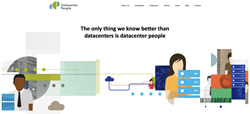 London, United Kingdom (PRWEB UK) 9 September 2015
Datacenter People, a leading specialist recruiter for the datacenter and allied sectors, has revitalised its brand look and feel and launched a new website. The new design has been introduced to make the brand more distinctive as it helps fulfil the growing demand for smart people to meet the challenges of Cloud computing and the Internet of Things.
Datacenter People founder and managing director, Peter Hannaford, said, "Datacenters are the engine rooms of the Third Industrial Revolution. But it's people that make the difference between a good facility and a great facility. With so much hanging on getting the right people in the right jobs, it was time that we distanced Datacenter People from general recruitment agencies."
Peter Hannaford continued, "Datacenter People is more like a 'match.com' for the datacenter industry. Our own specialist knowledge and experience working in the sector puts Datacenter People in a unique position to nurture and supply the top talent for all kinds of roles. We believe the new look and feel of our brand image is an important step in differentiating our service."
During its first five years of operation, Datacenter People has built up an impressive list of clients from the owners and operators of some of the world's largest and most critical datacenters, to the enterprises that provide physical infrastructure, software and services to ensure availability and reliability. The list includes Facebook, Digital Realty Trust, Ark Continuity, Vodafone, Interxion, IO, Schneider Electric, Emerson, CBRE, Panduit and Uptime Institute.
With offices in Singapore, London, New York and Mexico City the Datacenter People has the unrivalled capacity to service datacenter clients on a worldwide basis through a single point of contact. "In any case" says Hannaford, "our original website was looking a little out of date, so we're celebrating our first five years with a new website, logo and image to reflect our datacenter credentials. I hope people like it and will recognize even more the uniqueness of our services."
For more details, please contact Datacenter People on +44 (0) 8448 005553, or email info(at)datacenterpeople.org
About Datacenter People
Founded in 2010 by datacenter veteran Peter Hannaford, Datacenter People is a niche headhunting firm helping businesses at every stage in their development to identify and engage hard to find datacenter professionals, both temporary and permanent, around the globe.
Based in London but with branch offices in Singapore and network reach into US and Latin America, the firm handles roles from "C" level down covering all disciplines including.

Engineering (Mechanical, Electrical, Construction)
Design
Project Management
Sales ( to and from the datacenter)
Software Development
DCIM
Operations and Facilities Management
Network & Storage
General Management & Leadership
Technical Support
Marketing
Our detailed knowledge of the business, and the key players and companies which it comprises, constantly updated by regular attendance at trade shows, conferences and unequalled industry intelligence will help ease you through the process of the recruitment effort to a timely and satisfactory conclusion.
http://datacenterpeople.org/