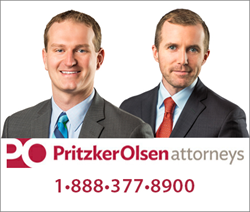 Minneapolis, MN (PRWEB) September 09, 2015
Attorneys Ryan Osterholm and Brendan Flaherty of the PritzkerOlsen law firm filed a lawsuit on behalf of A.J., a minor child, who allegedly contracted a Salmonella Poona infection after eating at the Red Lobster restaurant located at 8350 3rd Street North, Oakdale, Minnesota. The plaintiffs in the case are A.J.'s parents. This case is allegedly part of a multistate outbreak that has sickened about 285 people in 27 states, according to the Centers for Disease Control and Prevention (CDC) outbreak report issued on September 3, 2015.
The lawsuit was filed electronically on September 7, 2015, against two defendants: Andrew & Williamson Sales, Co. (Andrew & Williamson), a California company doing business as Andrew & Williamson Fresh Produce; and Red Lobster Hospitality, LLC, the owner and operator of the Oakdale Red Lobster restaurant. The suit was filed in the United States District Court for the District of Minnesota, court file number. 0:15-cv-03543, as shown on the Complaint, which can be read here.
PritzkerOlsen law firm is helping people from Minnesota and other states allegedly sickened in this outbreak.
According to the Complaint, on August 9, 2015, A.J. and his family went to the Oakdale Red Lobster to celebrate A.J.s grandmother's birthday. The lawsuit alleges the restaurant served Andrew & Williamson cucumbers in a salad to patrons, including A.J. Two days later, A.J. developed stomach cramps and diarrhea, symptoms of Salmonella food poisoning. He was treated by a doctor, who obtained a stool culture. Testing confirmed that A.J. had contracted a Salmonella Poona infection.
According to the Complaint, A.J. was one of 12 Minnesotans sickened in the nationwide Salmonella Poona outbreak linked to Andrew & Williamson cucumbers. According to the CDC, as of September 3, 2015, 285 people infected with the outbreak strains of Salmonella Poona have been reported from 27 states. The number of ill people reported from each state is as follows: Alaska (8), Arizona (60), Arkansas (6), California (51), Colorado (14), Idaho (8), Illinois (5), Kansas (1), Louisiana (3), Minnesota (12), Missouri (7), Montana (11), Nebraska (2), Nevada (7), New Mexico (15), New York (4), North Dakota (1), Ohio (2), Oklahoma (5), Oregon (3), South Carolina (6), Texas (9), Utah (30), Virginia (1), Washington (9), Wisconsin (2), and Wyoming (3). Illnesses started on dates ranging from July 3, 2015 to August 26, 2015. One death has been reported from California, and 53 people have reported being hospitalized.
PritzkerOlsen Law Firm
PritzkerOlsen, P.A., is a national food safety law firm that represents people sickened in foodborne outbreaks throughout the United States. Attorneys Ryan Osterholm and Brendan Flaherty can be reached at 612-338-0202 or via the firm's website, http://www.pritzkerlaw.com. The firm's offices are located at 45 South 7th Street, Suite 2950, Minneapolis, Minnesota 55402.