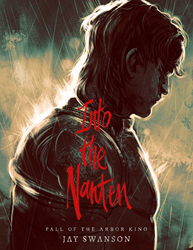 To call Into the Nanten a live blog is to really understate what it is—a multimedia universe of offerings
(PRWEB) September 08, 2015
Author Jay Swanson is doing some pretty cutting edge work in the world of live publishing with the release of Season 2 of his new Series, Into the Nanten, launching on Wednesday, September 9 around 8:30 pm EST. The Into the Nanten series, is breaking the Sci-Fi Fantasy and multimedia publishing molds in the way it is written, and released for audience consumption. Into the Nanten is a story written as episodic content and released daily in a real-time fantasy blog-for free.
Into the Nanten chronicles the story of Marceles, exiled to the Nanten- a jungle so hostile that to enter willingly is considered suicide. The story is the journal of Marceles' exile and is written and released as though he is writing it live; when he finishes an entry or illustration it appears in our world, on Swanson's blog.
Jane Friedman, speaker and professor in Publishing and Digital Media, recently said of Into the Nanten, "To call Into the Nanten a live blog is to really understate what it is—a multimedia universe of offerings." In addition to the real-time, daily publishing of Marceles' journey on Swanson's blog, the Nanten series includes e-reader versions, video blogs, an audio series, an Instagram account of the series' artwork, twitter accounts for the two main characters (@MTetrarch and @BrinSalisir), a complete e-book, and a printed version of Season 1 that is also a beautiful work of art illustrated by Nimit Malavia.
Season 1, Into the Nanten, The Record of my Exile, introduced this new live-published, multimedia format to Swanson's fans, who gobbled it up like they were binge watching their favorite series! Fans were so enthusiastic that they overwhelmingly supported the Kickstarter campaign to make Season 2 a reality. Season 2, Into the Nanten, Fall of the Arbor King, will launch with Episode 1 on Wednesday, September 9. Fans are anxiously awaiting the next chapter, and the series' expansion into real-time fantasy podcasting!
The official launch of Season 2 is even a multimedia palooza for fans, dedicated and new! After the launch of Season 2, Episode 1, fans are invited to a Google Hangout at 9 pm EST with Author Jay Swanson, Illustrator Nimit Malavia, and Narrator Dennis Kleinman where they can talk about what's coming up in Season 2 for Marceles and the crew, win free stuff and have a blast. There will also be an all-day Launch Party on Facebook to celebrate with giveaways including free books, posters, pins and more.
For those not afraid of spoilers, here's a summary of Season 1, Into the Nanten The Record of my Exile.
Media Contact
Meagan Garrett, Principal
M. Garrett Consulting, LLC
Better Communication. Better Business.
meagan(at)mgarrettconsulting(dot)com
509-475-0028
http://www.mgarrettconsulting.com