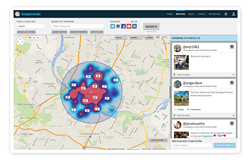 Executives across all industries and around the C-Suite recognize the potential for creating shareholder value based on developing actionable insights from location-based social media.
Austin, Texas (PRWEB) September 10, 2015
Snaptrends, the most powerful location-based social media insights platform, attributes its incredible growth to the explosion of social media conversations that organizations are leveraging for research, marketing, engagement, product and community insights and trending topics. Social media is now the richest data source available to corporations, revealing insights into consumer trends, workplace sentiment, general product interest, social networks – all at the local community and point of consumption level. Snaptrends gives organizations the ability to visualize social media posts and conversations in the context of location for deeper insights, and map areas where conversations are occurring in real time.
The global market for location-based social media insights for the 71,000 public companies worldwide is in the billions of dollars. Executives across all industries and around the C-Suite recognize the potential for creating shareholder value based on developing actionable insights from location-based social media.
The demand for Snaptrends' solution is apparent from the Company's massive year over year growth in recurring revenue, customer renewal rates and average selling price. To meet this demand, Snaptrends has expanded its management team and moved to a much larger headquarters in Austin, Texas. "The most important aspect to social media monitoring isn't big data collection – it's curating actionable insights around the customer experience. We believe adding the context of rich location insights to compliment global brand monitoring datasets from companies like Radian6 delivers a Social Complete solution for CEOs, CMOs, COOs, Chief Risk Officers, product and store managers. Until now, this location element has been often overlooked," says Eric Klasson, Snaptrends' President & CEO. "Our customer base is growing 4x because we are filling a void in the social media monitoring industry. If you can't see where posts and conversations are happening, you can't be proactive and precise in your local marketing responses and strategy. Our software puts all of the valuable location pieces of the puzzle together in a visual way so users can quickly but confidently make decisions that create value for all stakeholders."
Snaptrends is leading the expansion into virtually every subset of the corporate vertical, including retail, hospitality, travel and leisure, education, sports, restaurants, consumer goods, energy, healthcare and financial services – to name a few. "We are constantly improving our social insights platform to meet the needs of all corporations no matter their industry or global location," says Eric Klasson. "We predict location-based social media software will become the standard in all organizations seeking to better understand in real-time their customers, prospects, industry and competition."
To find out more about Snaptrends, go to http://www.snaptrends.com or watch the Quick Tour Video.
About Snap Trends
Founded in 2012 and based in Austin, Texas, Snaptrends offers the only location-based social media insights system to empower organizations in all industries to visualize conversations around their brands, products, services, executives, influencers and competition. Our advanced software captures, analyzes and organizes social media content in any specified geographic location automatically so users can easily and quickly find what matters most to them. Snap Trends' patented technology processes billions of geo-tagged social media posts every month and translates more than 80 languages so nothing is out of reach.