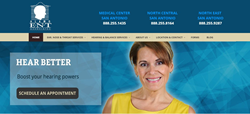 San Antonio, TX (PRWEB) September 08, 2015
Alamo ENT Associates, a full-service audiology and ENT practice in San Antonio, Texas, has launched a weekly blog that will offer information on relevant hearing healthcare topics. The blog can be found here: http://www.alamoent.com/hearing-tips.
The blog will contain essential information on hearing healthcare topics such as hearing loss, hearing tests, hearing aids, tinnitus therapy, and hearing loss prevention. Blog topics will include advice on dealing with hearing loss, guidance on how to approach others about their hearing loss, direction on how to get ready for a hearing evaluation, and tips on how to choose the right hearing aids.
The blog will address other interesting topics such as methods to save long-term hearing, tinnitus therapy options, finding financial assistance for hearing aids, work-related hearing loss, and much more.
The blog will offer a mixture of informative and interesting topics relevant to hearing and the audiology profession. Additionally, weekly blog posts will be shared to Alamo ENT Associates' Facebook page, where readers will receive updates with every weekly post. The Facebook page will also contain interesting hearing-related information to strengthen Alamo ENT Associates' effort to promote public awareness of hearing loss.
Alamo ENT Associates is encouraging anyone with questions or concerns to contact the practice with any blog topic suggestions. If you would like a question answered, or a topic of interest considered in more depth, contact the practice to have your topic addressed in future blog posts.
About Alamo ENT Associates
Alamo ENT Associates is an established, well respected ENT group serving San Antonio, Texas for over 20 years. They offer the highest quality specialty care for all ear, nose and throat problems in both pediatric and adult patients. With seven board certified Otolaryngologists and several locations in the San Antonio area, they provide you with excellent, top rated service and care at convenient locations.
Contact:
Michael Heijl
Alamo ENT Associates
(210) 616-0096
[http://www.alamoent.com