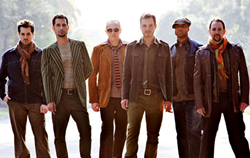 Duncan, OK (PRWEB) September 16, 2015
Duncan is no stranger to weekends full of experiences for all. Recognized in the top ten of the "Top Entertaining Cities in OK" and "Best Small City in OK" by Movoto.com, it is no surprise to see yet one more full weekend schedule of activities.
The Chisholm Trail Arts Council's Live Concert Series presents "M-Pact" at the Simmons Center on Thursday evening, September 24th. Hailed as "one of the best pop-jazz vocal groups in the world" by the San Francisco Chronicle, M-pact is respected worldwide as a cutting edge trailblazer in the realm of vocal music. Emerging from an age of auto-tune and overproduction, this Los Angeles-based ensemble has cultivated a new generation of ears hungry for the fresh, raw power of nature's "first instrument" - the human voice. Show begins at 7:30 PM, with tickets priced at $20 per adult and $10 per student. For more information, visit Chisholm Trail Arts Council's website
If you're a fan of bluegrass, you will no doubt enjoy the upcoming 4th Annual Fall Bluegrass Festival, held at Duncan's Grove, from Sept 24th through the 26th. Entertainment includes The Purple Hulls, Triple L Band, Tony King & Switchtrack, and much more. Festivities will also include contests, a variety of food, and workshops throughout the event. Tickets are $20 per person (children enjoy for free) or $35.00 for a full weekend pass. Find more information by contacting 580-606-9133.
Simmons Center's Fall Festival Craft Fair will be held Sep 25th and 26th at the Simmons Center. Enjoy a wide variety of vendors, with selections including homemade soaps, face products, jewelry, Made in Oklahoma baskets & more. The event is free to the public, and open 10:00 AM to 9:00 PM on Friday, and 9:00 AM to 6:00 PM on Saturday. For more information, contact 580-252-2900.
The Red River Ranch Round Up is scheduled for Sept 25th and 26th at the Stephens County Fair & Expo Center. This fun event features branding, pinning and wild cow milking, as well as a whole host of other activities. Stick around to see who is chosen as the rodeo queen and learn what it takes to run a ranch. Event begins at 7:00 PM and ends at 10:00 PM nightly. Tickets are $6.00 per person in advance or $7.00 per person at the gate. For more information, please contact 580-467-3824
For more information, please contact The Duncan Convention and Visitors Bureau at 1-800-782-7167 or visit http://www.duncancalendar.com.