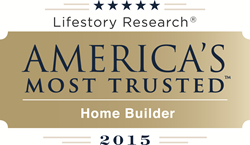 This is the perfect opportunity for home buyers who want to customize their new homes with all the bells and whistles
Horsham, PA (PRWEB) September 08, 2015
Toll Brothers, the nation's leading builder of luxury homes, will celebrate autumn with limited-time savings and incentives during its National Sales Event, which takes place from September 12 to September 27. The long-awaited event will give luxury home buyers the chance to get even more value for their money, and to build even greater personalization into their new homes. In addition to savings and incentives, buyers can also lock in still-low interest rates.
"This is the perfect opportunity for home buyers who want to customize their new homes with all the bells and whistles," said Kira Sterling, Chief Marketing Officer. "Home shoppers who choose to buy during the event will be able to build a home that reflects their life and their lifestyle for less; they'll also have the chance to learn firsthand about Toll Brothers' extraordinary quality, value, and style, and to see for themselves why Toll Brothers should be their builder of choice" she added.
During the National Sales Event, home buyers can choose from a stunning selection of home styles and picturesque home sites in communities that are situated in the best locations, and they can personalize the home of their dreams from an extensive list of customizing options.
Toll Brothers offers a wide variety of luxury homes and communities in nineteen states throughout the country, catering to a variety of lifestyles including traditional, urban, resort, and active adult. This iconic builder has come to represent the very best of American craftsmanship, which is further enhanced by its long-time partnerships with finest-quality companies like Kohler®.
Toll Brothers has an esteemed history of integrity, quality, and value. Among many other awards, the company was just recognized by Fortune magazine as one of the World's Most Admired Companies 2015, ranking #1 in the Homebuilding Industry and first in People Management, Use of Corporate Assets, Quality of Management, and Long-Term Investment Value. The company was also named America's Most Trusted Home Builder™ for 2015 by Lifestory Research,* receiving the highest numerical score among the largest 133 home builders in the country in a study that measures, among other things, perceptions of quality, price, reputation, and trust. These most recent awards are consistent with the respect and admiration the luxury home builder has enjoyed for decades from peers and homeowners alike.
National Sales Event savings and incentives will be available at participating neighborhoods nationwide.
Toll Brothers communities are found in the most beautiful, most desirable locations throughout the United States. Whether a buyer is looking for a traditional estate home in a picturesque setting, a dynamic residence in a sophisticated metropolitan location, a versatile home in an active-adult neighborhood, or a second home in an amenity-rich resort community, this is the time to get more for less.
To take advantage of this opportunity offered only through the National Sales Event, buyers must make a deposit between September 12 and 27. Savings and incentives will vary among communities and will comprise a package of savings created specifically for this event, so buyers should contact their community of interest and speak with a sales representative to learn more.
For those home buyers who would like to learn more about financing, representatives from TBI Mortgage Company, a subsidiary of Toll Brothers, will be on hand in many communities to offer FREE mortgage guidance. TBI Mortgage has an excellent selection of mortgage programs with interest rates – including both fixed rate and adjustable rate mortgages – that are a terrific value.
Toll Brothers has set the standard for timeless design and exceptional customer service, and is considered one of the smartest and best-managed companies anywhere. Although Toll Brothers is probably best known for its expansive single-family and estate homes, the luxury builder offers an amazingly wide range of home designs including condominiums, carriage homes, and townhomes; and a vast palette of community types – such as active adult through its Toll Brothers Active Living® brand, resort, and urban through its Toll Brothers City Living® brand.
Toll Brothers, an award-winning Fortune 1000 company founded in 1967, embraces an unwavering commitment to quality and customer service. Toll Brothers is currently building nationwide and is a publicly owned company whose stock is listed on the New York Stock Exchange (NYSE:TOL). In addition to the above-mentioned honors, the Company was also recently named national Builder of the Year by BUILDER magazine, and was twice named national Builder of the Year by Professional Builder magazine.
Toll Brothers proudly supports the communities in which it builds; among other philanthropic pursuits, the Company sponsors the Toll Brothers - Metropolitan Opera International Radio Network, bringing opera to neighborhoods throughout the world.
Toll Brothers builds luxury single-family detached and attached home communities; master planned luxury residential, resort-style golf communities; and urban low-, mid-, and high-rise communities, principally on land it develops and improves. The Company operates its own architectural, engineering, mortgage, title, land development and land sale, golf course development and management, home security, and landscape subsidiaries. The Company also operates its own lumber distribution, and house component assembly and manufacturing operations. The Company acquires and develops commercial properties through Toll Commercial and its affiliate, Toll Brothers Realty Trust, and purchases distressed loan and real estate asset portfolios through its wholly owned subsidiary, Gibraltar Capital and Asset Management. The Company acquires and develops commercial and apartment properties through Toll Commercial and Toll Apartment Living, and the affiliated Toll Brothers Realty Trust, and develops urban low-, mid-, and high-rise for-sale condominiums through Toll Brothers City Living.
This is not an offering where prohibited by law.
*Toll Brothers received the highest numerical score in the United States in the proprietary Lifestory Research 2015 America's Most Trusted™ Home Builder study. Study based on 43,200 new home shoppers in 27 markets. Proprietary study results are based on experiences and perceptions of consumers surveyed between January and December 2014.