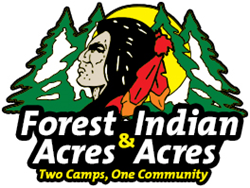 Fryeburg, Maine (PRWEB) September 10, 2015
'Indian Acres Camp for Boys' and 'Forest Acres Camp for Girls' featured nationally on Labor Day edition 'World's Greatest…!' TV series.
The fun of summer may be quickly coming to an end. But, for the many lucky children around the country who spent their summer learning new sports, skills and making lifelong friends at camp, they – along with their parents – may have gotten one last boost of camp spirit this past Labor Day. The national weekly television series, "World's Greatest...!," which seeks out the best in everything from around the globe, featured two renowned summer camps on their Monday, September 7, show: Indian Acres Camp for Boys (IA) and Forest Acres Camp for Girls (FA)! (Local channel listings and schedules for the "World's Greatest…!" series are available at http://www.worldsgreatesttv.com/tv_schedule. After the episode airs nationally, this special camp segment can be viewed online at http://www.IndianAcres.com or on the IA and FA Facebook page.)
"World's Greatest…!" is in the show's ninth season. The half-hour program spotlights the best companies, products, places and people. The Labor Day episode will address what makes IA and FA, brother/sister camps (not co-ed), among the 'world's greatest.' Based in Fryeburg, ME, IA and FA are uber-popular sleep-away camps for kids ages 7-17, many of whom travel from across the U.S., and even abroad, for this camp-going experience.
Says series Executive Producer Gordon Freeman, "After spending the July 4th weekend at Indian Acres and Forest Acres, I can say these camps are, in fact, the best in their category, and that's why they are highlighted on our show!"
The Labor Day "World's Greatest…!" episode features interviews with several IA and FA leaders, including husband-wife Owners/Directors Geoff and Lisa Newman, who bought the camps in 1998 from the founding owners. Also interviewed are longtime Assistant Director (and former camper) Michael "Moe" Burness, Mary Beth "Bert" Wiig (FA's Head counselor for 35 years) and Staff Member (and former camper) Logan Davis.
"Because we know that camp can be such an integral part of childhood, we do everything in our power to make sure the experience is life-enriching for campers," says Lisa Newman. Adds her husband, Geoff: "Perhaps that's why before the camp season is even over, the kids' daily countdown for our next summer has already begun!"
Established in 1924, IA and FA are both ACA-accredited. The camps host 300 kids per season, with a staff of 150, and run for seven weeks during the summer months. (Two and four-week sessions are offered as well.) IA and FA sit two miles apart on the Saco River. Amenities include a full complement of water sports (with Mastercraft ski boats) on Lovewell Pond, and two heated Olympic-style swimming pools. Other features are indoor gymnasiums, golf, mountain biking, baseball, 12 tennis courts, a new spinning studio, a three-sided climbing tower and full high and low element ropes courses. IA and FA also boast a 25 stall on premises riding complex which is run and instructed by the world recognized coach Ms. Carol CJ Law. For more information, log onto http://www.IndianAcres.com or http://www.ForestAcres.com.
"World's Greatest…!" is produced by How2Media, a Century television production company. Their award-winning programming can be seen on national cable channels and local network affiliates across the country. For more information, log onto http://www.How2Media.tv.