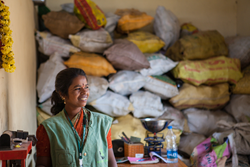 By ensuring urban waste pickers receive fair market value for the plastic they collect, we can catalyze real change in communities that need it most.
Los Angeles, New York and Toronto (PRWEB) September 10, 2015
Did you know that by 2025 there is expected to be one tonne of plastic for every three tonnes of fish in the sea? Plastics For Change is taking an innovative approach to address this problem. This organization has developed a process using mobile technology to alleviate plastic pollution while creating dignified jobs to reduce extreme poverty in developing regions.
According to the United Nations, the root cause of plastic pollution stems from the fact that some 3.5 billion people, or half of the world's population, are without access to crucial waste management services. Imagine what your community would look like without a waste collection service.
Often the same developing regions that cannot afford waste management services also have chronic unemployment. Regardless, many people have found a way to make a living by collecting and selling discarded plastic waste. These urban waste pickers play a critical role in cleaning up cities and increasing recycling rates. However, they often receive very little monetary value for their collected plastic because the middlemen and exporters in the supply chain dictate the price. As a result, most developing countries have a dismal 2-8 percent recycling rate.
The Plastics For Change system and mobile technology helps to increase the recycling rates by ensuring that urban waste pickers are paid a fair value for the plastic they collect. The open book trading platform builds trust and transparency through the supply chain and rewards the middlemen who pay waste pickers fair market prices.
The organization partners with eco-friendly brands to recycle this ethically sourced plastic into recycled product lines with a triple bottom line impact.
Plastics For Change recently launched a campaign to raise global awareness and generate funding to increase the rate at which the ethical sourcing methodology can be scaled through communities in India. The campaign is already over 50% funded with backers from over 10 countries.
This ground-breaking platform has been tested with urban recyclers in Coimbatore, India. Plastics For Change plans on using the funds to implement the fair trade system in numerous developing communities in India and eventually expanding to regions around the world that have a high level of poverty.
Check out the campaign video to learn more about the organization's approach for creating dignified jobs, fighting climate change and reducing plastic pollution in developing countries.
To request an interview or press kit with video and photos please email [email protected]