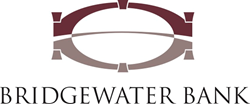 This significant influx of capital provides us with new opportunities to escalate this strategy and continue expanding our footprint in the Twin Cities.
(PRWEB) September 08, 2015
The Company plans to use the capital for strategic growth purposes which may include both organic and acquisition opportunities. Castle Creek Capital, based in Rancho Santa Fe, California, is the sole investor in this transaction.
"The bank has been committed to a growth strategy since its inception in 2005. This significant influx of capital provides us with new opportunities to escalate this strategy and continue expanding our footprint in the Twin Cities," explained Chairman and Chief Executive Officer, Jerry Baack. "With this level of funding we will be able to immediately meet the emerging financing needs of our increasing client base."
Bridgewater Bancshares has fueled past growth by raising capital through its existing client network and shareholder base, which includes 197 local entrepreneurs. The original capital raise in 2005 funded the bank's launch with $10 million. Subsequent capital raises, dating back to 2008, have generated a total of $15 million.
"We have never had a difficult time raising capital, but an investment from Castle Creek elevates Bridgewater Bank to a new level. Bringing in a private equity investor with a National reputation, even before we reach ten full years of operation, is a true testimony to the quality of our franchise and a vote of confidence in our business model," said Baack. "We suspect that our rapid and unparalleled growth, sustained profitability and performance are some of the factors that drew their attention. While they have invested in several banks across the nation, we are their first investment in Minnesota."
About Bridgewater Bank
Bridgewater Bank is a full service bank committed to serving the diverse needs of successful entrepreneurs. With an asset size of over $800 million and four branches, Bridgewater ranks among the top 15 banks in the State and is the fastest growing De novo bank in Twin Cities history. Providing responsive service and simple solutions for real estate investors and small business entrepreneurs has been the focus of the bank since its inception in 2005. The leaders are entrepreneurs themselves and understand that creative, flexible solutions are what set them apart as market leaders.
The four locations serving clients across the Twin Cities Metropolitan area offer a full range of commercial lending products; state of the art cash management options; commercial and consumer deposit accounts. Bridgewater Bank just completed its 38th consecutive quarter of profitability. The bank has been recognized as one of the Top Performing Banks in the Nation by SNL Financial. In addition they have a 5 Star client rating from Bauer Financial. In November the bank will celebrate its 10th year of operation.
About the Investor
Castle Creek Capital is a private equity firm founded in the early 1990s and is based in Rancho Santa Fe, California. The firm primarily makes equity, preferred equity, and debt investments in U.S.-based banks and other financial intermediaries with assets between $100 million and $10 billion. Since 1992, Castle Creek's principals have initiated and led over $2.0 billion in bank equity investments, completing over 65 direct and follow-on bank acquisitions and eight bank sales. Castle Creek and its portfolio banks have been one of the most active lead-investor acquirers of banks in the United States over the past decade.
D.A. Davidson and Co., an investment banking firm, headquartered in Great Falls, Montana, served as the placement agent on this transaction and a financial advisor for the capital raise.