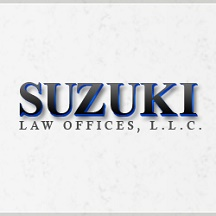 San Antonio, TX (PRWEB) September 09, 2015
Suzuki Law Offices, L.L.C. is proud to announce that we are now members of three prestigious professional associations, including the Arizona Attorneys for Criminal Justice, the American Association for Justice, and the American Bar Association. Our firm is honored to have been chosen for membership
Founded in 1986, Arizona Attorneys for Criminal Justice is a non-profit membership organization for criminal defense attorneys, students of law, and other associated professionals throughout the state of Arizona. The AACJ is committed to promoting excellence in criminal law through training and education, protecting the rights of the accused, and promoting public awareness of the criminal justice system, the rights of citizens, and the role of the defense attorney. The AACJ has made it their mission to ensure that all people, rich or poor, are guaranteed their constitutional rights, as well as to help improve the professional status of lawyers by encouraging a spirit of cooperation and ongoing education.
Formerly the Association of Trial Lawyers of America, the American Association for Justice is the world's largest trial bar. Through membership in this association, trial lawyers gain access to a network of information and professional support. The AAFJ is committed to ensuring that a fair and effective justice system is available to all, as well as to helping lawyers achieve positive results for injured clients in the courtroom. The mission of the AAFJ is to improve communities, advocate for the civil justice system, enhance the practice of law, and promote safety and accountability throughout the country.
The American Bar Association, as one of the world's largest voluntary professional organizations, has dedicated itself to improving the legal profession and advancing the rule of law throughout the country by enhancing diversity and eliminating bias. Founded in 1878, the association supports its members by providing them with resources and further education to better serve the needs of their clients. Additionally, the ABA is also involved in accrediting law schools, establishing model ethical codes, and improving the administration of justice.
The team at Suzuki Law Offices, L.L.C. has pursued these memberships in the interests of better serving our clients. With the resources provided by each of these prestigious associations, we look forward to continuing to provide unparalleled representation to each person seeking justice through the legal system.
Suzuki Law Offices, L.L.C. is a criminal defense and personal injury law firm located in Phoenix, Arizona. The firm has decades of combined experience handling a wide variety of criminal defense cases including federal crimes, DUI defense, sex crimes, theft crimes, violent crimes, and more. The firm is also available to assist with all types of personal injury cases. For more information on the firm and they types of cases they handle, please visit their website at http://www.suzukilawoffices.com.