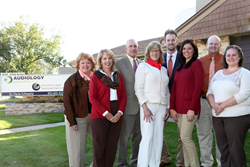 Edina, MN (PRWEB) September 08, 2015
Audiology Concepts is excited to offer Minnesota the pioneering Oticon hearing aids made with BrainHearing™ technology. BrainHearing takes the research and design process for hearing technology in an entirely new direction, founded on the principle that hearing occurs in the brain, not in the ears.
"With BrainHearing, we further advance our 'brain first' audiological focus, first introduced in 2003," says Oticon President Peer Lauritsen. "Rather than emphasize amplification and suppression of sounds, our audiological approach recognizes that speech understanding and comprehension are cognitive processes that happen in the brain."
Conventional hearing aids, designed with the ear in mind, are more or less miniature amplifiers, increasing the signal strength of sound and forcing it into the ear. The concern with this approach is that it ignores the way the brain process and perceives sound. By amplifying all sounds and frequencies, including the varieties someone with hearing loss can already hear well, the brain becomes overwhelmed, fatigued, and confused.
Conversely, BrainHearing technology amplifies only the sounds and frequencies those with a hearing loss have trouble hearing or wish to pay attention to. By dynamically modifying sound before amplification, Oticon hearing aids send a modified signal to your ear in a way that the brain can efficiently process. These modified signals enable the user to organize sounds, orient to the environment, hear better in noisy settings, understand speech more clearly, switch focus, and listen according to personal preferences.
Oticon hearing aids with BrainHearing technology accomplish this with four key features:
1. Speech Guard E safeguards the sound of speech, allowing the user to hear conversations even in the presence of loud background noise.
2. Spatial Sound allows the user to locate the source of sounds and orient to the environment.
3. Free Focus allows the user to shift focus from one conversation or focal point to another.
4. YouMatic allows the user to individualize sounds based on preferences and needs.
Additional information about Oticon hearing aids featuring BrainHearing technology can be found at http://bit.ly/1hXdp9h.
About Audiology Concepts
Audiology Concepts is a full-service audiology practice located in Minnesota, with locations in Edina and Burnsville. Equipped with state-of-the-art technology and compassionate staff, the practice offers comprehensive services including hearing tests, hearing aid evaluations, custom hearing aid fittings, hearing aid cleanings, rehabilitative counseling, preventive care advice, and service and repair for most hearing aid models.
Contact:
Paula L. Schwartz
Audiology Concepts
http://www.audiologyconcepts.com
952-831-4222