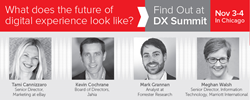 "Building brand advocacy from loyal consumers is the only genuine channel left available to us as marketers to drive meaningful engagement and differentiate our brand experience," said Tami Cannizzaro, Senior Director of Demand Generation, eBay
San Francisco, CA (PRWEB) September 10, 2015
Simpler Media Group, Inc., publisher of the popular CMSWire.com news site, has opened registration for 25+ sessions, workshops and roundtables at its DX Summit (#DXS15) conference, which covers the emerging field of digital customer experience.
As customers demand meaningful interactions across touchpoints, organizations are racing to put customer experience at the center of their business practices. DX Summit speakers, selected from organizations winning at digital customer experience, will cover key themes such as innovation, business culture transformation, big customer data, and the MarTech ecosystem.
"Building brand advocacy from loyal consumers is the only genuine channel left available to us as marketers to drive meaningful engagement and differentiate our brand experience," said Tami Cannizzaro, senior director of demand generation, eBay, enterprise unit. Cannizzaro is presenting the session "The New Rules of Engagement: How Digital Marketers Must Evolve."
Breakout sessions will take deeper dives into subjects like content strategy, mobile and analytics. Pre-conference workshops on Monday, Nov. 3 offer hands-on training on selecting a MarTech technology, mapping a customer journey and building a digital-marketing roadmap.
"Most organizations overinvest in features and underinvest in integration. Vendors do the same. Digital experience demands a new strategy" said Mark Grannan, analyst at Forrester Research, who is presenting the session "The Integration Imperative of DX Delivery".
"Digital platforms are flow systems that enable brands to connect with audiences in more meaningful ways. The better we understand how innovation powers these ecosystems, the more likely we are to create optimal experiences," said Nikos Acuna, director, business strategy at Rocket Fuel. Acuna is kicking of the event with a keynote presentation on harnessing innovation.
DX Summit takes place on Nov. 3 and 4 at the W Hotel City Center in downtown Chicago. Registration is now open on the DX Summit site. Those who register by September 15 receive a $300 discount off the full $1,295 conference price.
Inquiries may be directed to Narasu Rebbapragada, director of strategic content, at media.relations(at)simplermedia(dot)com or 1-800-939-1913 x702.
About CMSWire
CMSWire.com is a leading industry information site and online community of more than 2 million readers. The CMSWire team has spent the past 12 years covering the evolution of content technology -- including marketing technology, enterprise collaboration and information management. More than 400 industry professionals contribute to the publication each year. Its audience consists of CMOs, CDOs, CIOs and digital experience specialists who are working at the intersection of IT, marketing and customer experience.