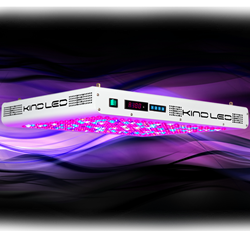 The results are in and Kind LED grow lights have come out ahead of the competition.
Santa Rosa, CA (PRWEB) September 10, 2015
The results are in and Kind LED grow lights have come out ahead of the competition. Kind LED grow lights have recently released a video showing the PAR readings of the K5 XL1000 versus other LEDs and traditional HPS lights on the market. Kind LED grow lights have become the best-selling LED grow light in the world. Kind LEDs were tested against major brands in the LED grow light market including Black Dog, California Light Works and Lumigrow. The results have proven why indoor growers are making Kind LED the most popular in the hydroponic industry.
This comparison video tests various indoor gardening grow lights on PAR readings and spectrum. Growers hear the term when comparing different lights, but what does PAR mean? PAR stands for photosynthetically active radiation and quantifies how much usable light is being emitted by the light source. PAR meters measure how much light is avaialable to a plant for photosynthesis. These measurements vary by light source and increase depending how close the light is to the plants. The video also compares lights spectrums. which is arguably more important than PAR, as the spectrum will determin the amount of light plants can actually use. As the video shows, Kind LED also outperformed the competition with their 12 band perfect spectrum in that category as well.
Kind LED Grow Lights outperformed its competitors with an average PAR reading of 340, showing the most complete spectrum and best overall PAR readings against all other lighting options tested. The video comparison can be viewed on Kind LED Grow Lights' YouTube channel.