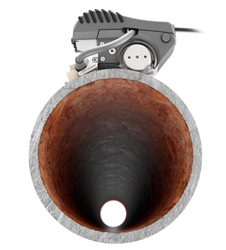 Quebec City, Quebec (PRWEB) September 10, 2015
Zetec launched their new NDT PaintBrushTM scanner as part the growing product line strategy for corrosion mapping solutions.
A new type of solution
With NDT PaintBrush scanner, Zetec introduces the next evolution in the field of inspection solutions for wall-thickness measurement when doing corrosion mapping and inspection for erosion or damage.
Zetec's NDT PaintBrush scanner allows inspecting without the limitations imposed by the typical corrosion scanners. This innovative solution solves the restriction of limited coverage systems like two axis scanners or the positioning inaccuracy of wheel probe type scanners.
NDT PaintBrush scanner is available in two configurations of side-by-side wheels: magnetic wheels to inspect on magnetic surfaces and soon with composite specific wheels allowing for inspection on composite materials.
NDT PaintBrush scanner can accommodate different types of probes for different inspection requirements. Zetec's TOPAZ instrument recognizes automatically when a NDT PaintBrush scanner is connected and configures the mechanical inspection sequence.
The product is available now globally and more information is available at Zetec's website at http://www.zetec.com/products/mechanical-systems/scanners/ndtpaintbrush/
About Zetec
Zetec is a global leader in nondestructive testing (NDT) solutions for the critical inspection needs of industries the world counts on every day—including power generation, oil and gas, transportation, heavy industry and manufacturing. We serve as a single source for high-performance solutions in both eddy current and ultrasonic technologies. For nearly 50 years, we've advanced NDT standards and science, providing new insight and control through inspection solutions that protect our customers' most important assets and ensure the quality of their products. By integrating design and engineering with our own manufacturing, Zetec delivers solutions that optimize productivity, safety and total cost of ownership. Zetec is a subsidiary of Roper Technologies, Inc., with global engineering and manufacturing centers in Quebec City and at our corporate headquarters in Snoqualmie, Washington. Zetec support spans the globe, with Centers of Excellence in Houston, Paris, Seoul, Shanghai and Tokyo.
Zetec, PaintBrush, and TOPAZ are registered trademarks or trademarks of Zetec in the United States and/or other countries. The names of actual companies and products mentioned herein may be the trademarks of their respective owners.
The information provided in this press release contains forward looking statements within the meaning of the federal securities laws. These forward looking statements include, among others, statements regarding operating results, the success of our internal operating plans, and the prospects for newly acquired businesses to be integrated and contribute to future growth and profit expectations. Forward looking statements may be indicated by words or phrases such as "anticipate," "estimate," "plans," "expects," "projects," "should," "will," "believes" or "intends" and similar words and phrases. These statements reflect management's current beliefs and are not guarantees of future performance. They involve risks and uncertainties that could cause actual results to differ materially from those contained in any forward looking statement. Such risks and uncertainties include our ability to integrate our acquisitions and realize expected synergies.
We also face other general risks, including our ability to realize cost savings from our operating initiatives, general economic conditions, unfavorable changes in foreign exchange rates, difficulties associated with exports, risks associated with our international operations, difficulties in making and integrating acquisitions, risks associated with newly acquired businesses, increased product liability and insurance costs, increased warranty exposure, future competition, changes in the supply of, or price for, parts and components, environmental compliance costs and liabilities, risks and cost associated with asbestos related litigation and potential write-offs of our substantial intangible assets, and risks associated with obtaining governmental approvals and maintaining regulatory compliance for new and existing products. Important risks may be discussed in current and subsequent filings with the SEC. You should not place undue reliance on any forward looking statements. These statements speak only as of the date they are made, and we undertake no obligation to update publicly any of them in light of new information or future events.