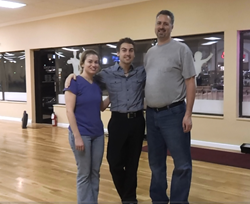 Mistakes are important for success.
St. Louis, MO (PRWEB) September 21, 2015
All dance students have heard it at one time or another "everyone makes mistakes," but most students still try to avoid making them at all costs. A beginning student appreciates others trying to make them feel better, but still strives for perfection.
Dance Pizazz, the St. Louis area's friendliest, funnest dance, wants to share how mistakes in general can be pretty glorious. According to Dance Comp Mistakes are glorious for the following reasons:
1. Mistakes can make stars. We've all seen the dancers that fall or crash and then come out with style right? Check out the comments that are made on videos of amazing responses to mistakes.
2. Mistakes can spark major creativity and development. Look at ballroom dancing 20 or 30 years ago, and look at it now. There are clear differences. At one point these differences may have been considered mistakes because a move looked to be too much, too little or not quite right to some, but to others it set the next goal.
3. Paying attention to the mistakes that you see can save you some grief. Seriously! If someone sees something that didn't work, they will have actually learned something.
4. If a dancer doesn't make any mistakes it is hard to claim that you really know what you are doing. Making mistakes helps the brain pinpoint what a dancer really needs to do by a process of systematic elimination. If everything comes easy, then the risk is, this success is more of an accident than accomplishment.
5. All mistakes are not created equal. There is the fledgling mistake that happens when "a dancer does not know and cannot do"; the sophomore mistake that happens when "a dancer does know, but you cannot do", and the impetuous mistake that happens when "a dancer knows and can do, but for some reason doesn't". This is important to know because a dancer may think they are making a lot of mistakes, but if their mistakes progress - High Five!
6. Mistakes make you calmer. Consider how you would be if a dancer never made a mistake. When they do make one, they would probably flip out a bit. It is much better to know and regularly experience the fact that after they make a mistake, they are still smart, lovable and ready to move on and actually a lot better off for the experience.
Dance Pizazz knows that mistakes are important for success, and strives to help students understand their mistakes and how they can learn for them.