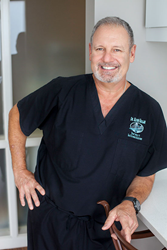 Mount Pleasant, SC (PRWEB) September 08, 2015
Dr. Kevin Hogan encourages those with gum disease in Mount Pleasant, SC to take advantage of Self Improvement Month this September, and learn more about treatment through laser dentistry. Dr. Hogan uses the LANAP® protocol, a minimally invasive option to treat periodontal disease. With this technology, patients typically experience less bleeding, inflammation and discomfort than with traditional procedures.
The LANAP® protocol, a laser-based technology, works by locating tissue in the mouth that is inflamed with bacteria. Its precise targeting capabilities allows Dr. Hogan to removed only infected gum tissue without causing discomfort or harm to healthy tissue surrounding the treatment site.
Patients who receive scalpel-based treatments for their periodontal disease symptoms can usually expect at least a small portion of healthy tissue to be removed along with the unhealthy tissue. This is because it can be difficult for dental professionals to accurately pinpoint inflamed tissue when they rely on their eyesight alone. Since gum disease already compromises the amount of healthy gum tissue that a patient has, it is important for them to retain as much of that healthy tissue as possible by electing to receive laser-based treatments.
With the LANAP® protocol, Dr. Hogan does not use scalpels to cut the gums or sutures to seal off the treatment area. Instead, the laser cauterizes the treated area and minimizes bleeding and inflammation often associated with recovery. Additionally, patients who receive LANAP® protocol treatment for gum disease usually have very quick and minimally-painful recovery periods.
Dr. Hogan welcomes all patients with gum disease in Mount Pleasant, SC, to find out how effective and gentle treatment can be when the LANAP® protocol is utilized. Those who wish to improve their health during Self Improvement Month are urged to schedule a laser dentistry appointment with Dr. Hogan by calling his office at (843) 639-5044 or by visiting his website at http://www.smilesbyhogan.com.
About the Doctor
Dr. Kevin Hogan is general dentist providing individualized care for patients in Mount Pleasant, SC. Dr. Hogan is a graduate of the Indiana University School of Dentistry and has completed hundreds of hours of continuing education courses to stay up to date with the latest dental technologies. In addition, he has also completed coursework with the Dental Organization for Conscious Sedation and has lectured at both the University of North Carolina and Emory University. Dr. Hogan is a member of the American Dental Association, International College of Cranio-Mandibular Orthopedics, Academy of Laser Dentistry, International Association of Physiologic Aesthetics, Institute for Advanced Laser Dentistry, among many other. He and his team are dedicated to providing exceptional oral care to patients through personalized treatment plans. To learn more about the services offered by Dr. Hogan, please visit his website at http://www.smilesbyhogan.com or call (843) 639-5044.