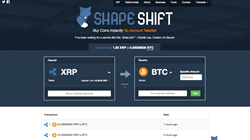 Switzerland (PRWEB) September 09, 2015
ShapeShift.io, a next-generation, non-custodial, instant exchange service for Bitcoin and digital assets, today announced the completion of its funding round of $1.6 million USD. The round was led by Barry Silbert's Digital Currency Group and Roger Ver, and included participation by leading exchange Bitfinex, Bitcoin Capital (Max Keiser and Simon Dixon), Mardal Investments, and top industry angels, including Bruce Fenton, Trevor Koverko and Michael Terpin.
Since its inception in August 2014, the cryptocurrency exchange led by CEO and Bitcoin industry pioneer Erik Voorhees has registered 100x growth, achieving over $2m USD-equivalent volume in July alone.
"ShapeShift demonstrated an entirely new way to think about asset exchange," said Zane Tackett, Director of Community and Product Development at Bitfinex, "It's like Google Translate for digital currencies. We've known Erik for a while now and he's knocked it out of the park with this one. We're very excited about the partnership."
ShapeShift has positioned itself as the fastest way for humans and machines to exchange digital assets, and the company pioneered "consumer protection by design," building the first exchange that didn't require the deposit of user funds. Unlike every other exchange, ShapeShift is "non-custodial," meaning it doesn't hold customer money, a feature that is impossible in traditional finance.
Living up to its strict "No Fiat" policy, the company operates on cryptocurrency, paying all salaries, server costs, marketing, and legal expenses with Bitcoin.
At the moment, over 40 leading digital currencies and assets are available, including Bitcoin, Counterparty, Ripple, Monero, and the highly anticipated Ethereum. Over 940 direct trading pairs are supported, more than any other exchange.
The round includes convertible note contributions announced earlier this year.
About ShapeShift.io
ShapeShift is how digital asset exchange should work. From start to finish, users can convert in seconds, with no account required. No emails or passwords. No lengthy sign­up process. No accounts. No friction. ShapeShift's goal is to be the fastest, safest, and most convenient way to trade digital assets. See more at: https://shapeshift.io/new.html
About Digital Currency Group:
Digital Currency Group (DCG) is accelerating the development of a better financial system. We build and support bitcoin and blockchain technology companies by leveraging our insights, network, and access to capital. DCG has been an active seed investor in the digital currency industry with over 50 investments in 15 countries. Learn more at http://dcg.co
All product and company names herein may be trademarks of their registered owners.
Media contact: Shapeshift(at)transform(dot)pr, ShapeShift company contact: emily(at)shapeshift(dot)io