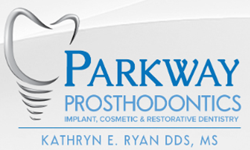 Jacksonville, FL (PRWEB) September 08, 2015
In honor of Self-Improvement Month this September, Kathryn E. Ryan, DDS, MS, encourages those who are unhappy with traditional dentures to explore the benefits of dental implants in Jacksonville, FL. An implant is surgically placed within the bone, where it becomes an effective and permanent tooth root. When a full dental plate is required, Dr. Ryan offers the All-on-4™ treatment, providing the patient an opportunity to leave the office with a beautiful and firmly secured set of teeth, on the same day.
Tooth roots fit accordingly within their sockets, providing critical stimulation in the jawbone when a person chews. After a person loses a tooth, the bone begins to deteriorate and the jaw structure is altered. Surrounding teeth are at an increased risk by the changing structure of their support system. When a person is missing a substantial amount or the entire set of their upper or lower teeth, the bone loss is accelerated significantly. Dentures rest against the gums, unable to prevent the damage below the surface. Due to the lack of an effective anchor, a removable dental plate may become dislodged when a person consumes crunchy or sticky foods, creating an inconvenience of foods that must often be avoided.
The post of an implant simulates the functions of natural tooth roots, fusing to the jawbone and stimulating healthy bone density. However, when bone loss has already occurred, a dental professional who offers dental implants in Jacksonville, F L, may recommend bone grafts as a prerequisite. All-on-4™ implant-supported dentures do not require painful grafting techniques. Dr. Ryan strategically places four posts to maximize current bone density, preventing further deterioration. Two of the implants are strategically set at an angle, creating a firm and stable anchor for the plate. This method is completed in a more expedited rate, requiring fewer surgeries and proving to be cost-effective, compared to other implant treatment options. It is a procedure that has proven results for longevity.
Anyone in Jacksonville, FL, who wants to celebrate Self-Improvement Month with a mouth full of healthy teeth, can learn more about All-on-4™ dental implants on Dr. Ryan's website.
About the Practice
Parkway Prosthodontics is a prosthodontics practice located in Jacksonville, FL. Dr. Kathryn E. Ryan specializes in prosthodontics, esthetic and implant dentistry. She holds a Certificate of Specialty in Prosthodontics and a Master of Science Degree from Marquette University School of Dentistry, and is a Fellowship trained in implant surgery from the University of Florida College of Dentistry. Dr. Ryan is a member of the American Dental Association, International Team for Implantology, Northeast District Dental Association, among others, and participates in the Jacksonville Dental Society Study Club, Beaches Study Club and Jacksonville Women's Dental Society Study Club, to name a few. Dr. Ryan and her team are committed to providing patients with quality care using state- of-the art techniques and equipment. To learn more about Parkway Prosthodontics and the services they offer please visit their website at http://www.parkwaypros.com or call (904) 201-1010 to schedule an appointment.
Success rates of dental implants vary, depending on where in the jaw the implants are placed but, in general, dental implants have a success rate of up to 98%. With proper care (see below), implants can last a lifetime.