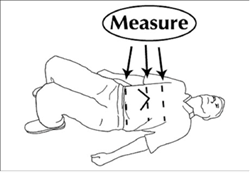 Prichard urges parents to measure their children's breathing ranges. All that is needed is a cloth tape measure.
Tiburon, CA (PRWEB) September 15, 2015
Sharpen your pencils and fire up the calculator! Summer is over, school is in session. Before cramming too much weight in that backpack, be sure to know the consequences. Somax Performance Institute reveals new findings that show heavy backpacks can lead to oxygen deprivation.
"We have been measuring breathing ranges for the past 30 years and have seen a steady decline in chest and stomach expansion in children," says Somax Performance Institute president, Bob Prichard who attributes the decline in breathing ranges to carrying heavy backpacks to school.
Most students have to carry backpacks that are much too heavy for them. To compensate, kids overuse their shoulder, chest and stomach muscles, creating microfibers (mild scar tissue) that bind the muscles together, reducing chest and stomach flexibility. The problem is that these microfibers do not go away; they actually accumulate over time, further reducing breathing. The result of this restriction is less oxygen to the brain.
Somax helps children and adults increase their brain oxygen by releasing microfibers in the chest and stomach with their Microfiber Reduction program. As their breathing ranges improve, they see an improvement in grade point average up to a full letter grade, and improved mood and self-confidence.
Prichard urges parents to measure their children's breathing ranges. All that is needed is a cloth tape measure. Have the child lie on their back with their knees up and measure the chest, diaphragm and stomach as seen in the picture. Measure once at rest and again as they take a deep breath and then exhale, making sure they expand both stomach and chest. Divide the amount of movement at each level by the circumference. In normal, unrestricted breathing, the movement should be 15% or more of the circumference. This means a stomach circumference of 30" should expand 4.5". A 34" chest should expand a minimum of 5".
For more information on heavy school back packs and oxygen deprivation please visit the website or contact arden(at)farrowpr(dot)com.
About Bob Prichard:
Bob Prichard is the author of The Efficient Golfer, Are You Flexible Enough for Golf?, and has written dozens of articles in sports magazines. He was also a monthly columnist for The New York Times, and broadcast analyst for NBC Sports Olympics. Prichard holds two US patents, one for the Power Hip Trainer, the only aerobic exercise machine designed to increase the strength and speed of hip rotation for golf, tennis, baseball, boxing, and martial arts. His Olympic athletes have won 44 Gold Medals and have set 11 World Records. Mr. Prichard has been the subject of articles in The Wall Street Journal, Sports Illustrated, Golf Digest, Runners World and many other sports magazines.