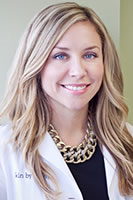 Santa Monica, CA (PRWEB) September 09, 2015
The renowned aesthetic professionals at Skin by Lovely™ are excited to announce the addition of Kybella™ to both their California and Oregon locations. This exciting, nonsurgical treatment is the only injectable approved by the Food and Drug Administration (FDA) for the elimination of submental fat, or the double chin. Skin by Lovely™ is the first and only clinic in Oregon to offer this innovative treatment.
The FDA cleared Kybella™, produced by Kythera Biopharmaceuticals, for patient use in April. Kybella™ is made from Deoxycholic Acid; a naturally occurring molecule, used by the body to rid unwanted fat cells. The Deoxycholic Acid in Kybella breaks down the cell walls of fatty tissue. Once the fat cells have dissolved, the body can then safely eliminate the unwanted tissue. As fat cells die off, they do not return, meaning the benefits of Kybella™ are permanent.
Once applied, Kybella™ will slowly attack the fat cells within the target area. Over the following four to eight weeks, as the cells are absorbed by the body, the excess submental fat will be eliminated. The results from Kybella™ can dramatically improve the double chin. A youthful, sculpted appearance can be seen forming in as few as two months.
Skin by Lovely™ performs all Kybella treatments in one of their private procedure rooms. Depending on the severity of submental fat, each session consists of up to 50 small injections. A series of two to six sessions, spaced four weeks apart, is required for full results. Taking less than 30 minutes in the office, Kybella™ patients are able to return to all activities, including work, school, or exercise the same afternoon.
Skin by Lovely™ was founded in 2006 by Lovely Laban, NP-C MSN, a native of the Pacific Northwest. Mrs. Laban is Nationally Certified in Gerontology, and has spent years studying ageing's affect on the skin. Her Santa Monica office is now the largest noninvasive facial aesthetic practice on the Westside of Los Angeles. A prolific writer and speaker, Mrs. Laban routinely contributes beauty advice to In With Skin and Radar Online.
If you are wondering if Kybella™ might be right for you, take a moment to contact a patient coordinator at Skin by Lovely™. The Santa Monica office can be reached at 310.566.0858. Those in the Pacific Northwest Oregon area can contact the Portland office at 971.303.8060. The dedicated professionals at Skin by Lovely™ will be happy to further discuss the Kybella™ process, or schedule a consultation appointment to determine if Kybella™ is right for your needs.
Contact:
Skin by Lovely™
2730 Wilshire Boulevard, Suite 320
Santa Monica, California 90403
310.566.0858
http://www.skinbylovely.com