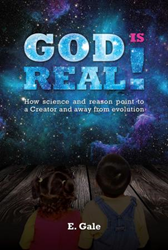 We live in a time when many people consider science and God as opposing forces, constantly fighting for recognition
San Pedro, CA (PRWEB) September 10, 2015
Within the pages of E. Gale's new book, God Is Real!, ($15.49, paperback, 9781498446440) readers will discover that the intricacies of our body's systems and abilities of our cells to follow complex DNA codes all point to the existence of a transcendent God – who created our universe and all that dwells within it. The discoveries of those who seek the truth are powerful indicators that the God described within Scripture created life. The study of biology will reveal Him and all of His spectacular forethought, knowledge, and artistry. This in-depth study of what current science knows about the creation of life investigates the varied misconceptions of evolution, and it shines the light of truth on them. Author wants to show the world the breadth of God's power and the depth of His invention – and to prove that God is Real!
"We live in a time when many people consider science and God as opposing forces, constantly fighting for recognition," states the author. "However, some of God's most beautiful work lies within us and around us, in the cells that he created and the directions he stores in our DNA."
As a product of the public school system, E. Gale became an atheist in high school and remained an unbeliever until she was forty-eight years old – when a friend shared the gospel message with her. Relying on what she was taught in biology classes, she had opposed Christianity and believed she was doing others a favor by mocking their belief in Jesus. She wrote this book because our public schools and the media have taught everyone to ignore the evidence for God, and she wants to prevent this from happening to others. She uses exciting recent findings and experience as a teacher to take the reader on a journey to the smallest inner workings of life. She cleverly illustrates how God's infinite power produces what couldn't happen from random chance.
Xulon Press, a division of Salem Communications, is the world's largest Christian self-publisher, with more than 12,000 titles published to date. Retailers may order God Is Real! through Ingram Book Company and/or Spring Arbor Book Distributors. The book is available online through xulonpress.com/bookstore, amazon.com, and barnesandnoble.com.
Media Contact: E. Gale
Email: [email protected]