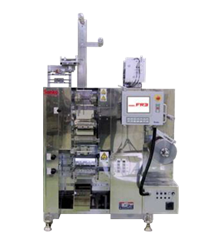 The convergence of these consumer forces is driving an increasing number of brands, especially those marketed in liquid format, to really explore single-serve flexible packaging solutions.
Marlton, NJ (PRWEB) September 10, 2015
The Sanko model FR-3 is a 12-lane pouch filling machine at Pack Expo 2015, Booth S-7472, September 28-30, Las Vegas Convention Center, Las Vegas, NV. Capable of operating at fill speeds of over 230 cycles per-minute, the FR-3 is the fastest liquid pouch machine in its class worldwide.
The exclusive North American representative for Sanko packaging machinery, T.H.E.M. first introduced the Sanko FR-3 to the North American market three years ago. The response to date, according to T.H.E.M. CEO and President Neil Kozarsky, has been "overwhelming. Watching an FR-3 run at top speed is almost memorizing. Customers are equally impressed by the machine's flexibility, intuitive operating controls, and measurable savings due to more efficient use of packaging material. These features combine to make the FR-3 a compelling option for brands marketed in liquid pouches."
Since its debut, T.H.E.M. has launched numerous new products with the FR-3 including contract packaging applications and outright sales of the machine. T.H.E.M. also has an increasing backlog of FR-3 projects in development phases. Interest has been broad-based from a market perspective, Kozarsky indicated, acknowledging the machine's inherent versatility. FR-3 initiatives involve products ranging from liquid sugar, to high-end condiments, beverage additives, skin lotion, and even a pet care product. The FR-3 is also well suited to package soup concentrates, toppings, salad dressings, in addition to cosmetic and personal care products. The adaptable system can accommodate liquid filling for a broad range of consistencies, including gels and pastes. A proprietary ultrasonic system allows sealing of products containing particulates.
The FR-3 is available in narrow web and multi-lane configurations, and can be set up for both three- and four-sided form-fill-seal packaging of liquid products. Unlike conventional machines where the sealing pressure is determined on the basis of an operator's skill and experience, the FR-3 stores numerical packaging data for each product to be packaged. As the machine is adaptable for each different package, it can be operated directly by the numerical control system. Change of bag length, adjustment of I-notch positioning, perforation, and cutoff can all be made through a simple, intuitive touch panel display. Other adjustments can be made in a similar fashion, even while the machine is in operation.
Standard FR-3 features include heat-resistant, lubrication-free bearings, non-backlash gears, an automatic film centering mechanism, and a rotary connector for the attachment of a heater. Among the machine's many available options are automatic side web tracking system, and a liquid flow meter.
Kozarsky attributes the growing popularity in liquid pouch packaging in North America to several consumer buying trends coming together: convenience, mobility, customization, the environment, and an ongoing demand for the highest value products at the best possible cost. "The convergence of these consumer forces is driving an increasing number of brands, especially those marketed in liquid format, to really explore single-serve flexible packaging solutions. As a result, we can expect to see continued advancements and innovation in terms of performance, interactivity and source reduction, from the flexible packaging community for the foreseeable future."
To this end, T.H.E.M. will feature two other packaging solutions at Pack Expo this year, including the Snapsil® easy-open container, and flexible stick packs, the technology that T.H.E.M. is best known for.
Snapsil Semi-Rigid Single-Serve Package
The Snapsil semi-rigid container, developed by Australian-based Snapsil Corporation and used for single-serve consumer products, features a patented audible "snap-opening" function that allows consumers to open the package with one hand.
Flexible Stick Packaging
T.H.E.M. will showcase its complete range of single-use stick packaging solutions along with representatives from Sanko Machinery Co., the largest manufacturer of stick packaging machinery in the world.
SUPPLY CHAIN CONTINUITY
T.H.E.M.'s unique continuity of supply chain support model enables customers to develop a single-serve packaging program from concept to commercialization, and in a manner that aligns with their needs, operations, and core competencies. In many cases, customers will perform pilot runs at the T.H.E.M. contract manufacturing facility, and then purchase a machine, and continue to work with T.H.E.M. to support scale-up, full commercial production, in addition to supporting product line extensions and select seasonal offerings.
T.H.E.M.'s NJ-based facility provides contract manufacturing and packaging services in the form of flexible stick packs, pouches and other single-use flexible packaging formats. The company's form-fill-sealing operations accommodate both liquid and dry products. In addition to food and beverage products, the company supports nutraceuticals, OTC, personal care products, and energy supplements. T.H.E.M. continues to invest in its contract packaging operations, and recently erected additional humidity-controlled packaging suites at its Marlton, NJ based facility. Liquid pouch and packette production includes three- and four-sided seal packaging for product capacities ranging from 1 to 70ml. As part of a turnkey solution, T.H.E.M. also manages raw material intake, secondary packaging operations, and pack out for distribution.
T.H.E.M.'s facility is FDA-registered, Safety Quality Food (SQF) Level 2 Certified, Kosher and USDA Organic certified, and also certified to package dietary supplements. Recently, the plant received federal approval to package products containing alcohol. In addition to flexible packaging machinery and contract packaging services, the company provides R&D, engineering, and training support.
# # # #
About T.H.E.M.
Technical Help in Engineering and Marketing (T.H.E.M.) was founded in 1973 as one of the first providers of innovative packaging solutions in North America. The company is best known for commercializing Sanko Stick Packaging in the United States. Working in conjunction with select packaging and equipment manufacturers, T.H.E.M. offers a comprehensive array of packaging solutions designed to take brands from initial concept to full-scale national or global production. T.H.E.M. has a fully operational, on-site R&D center located at its Marlton, NJ headquarters, with pilot production, scale-up, and full-scale contract packaging capabilities.
For more information on T.H.E.M.'s flexible packaging machinery and contract manufacturing services, please visit: http://www.them.net.
For more press information, please contact:
Ed Delia, President
President
Delia Associates
T: 908.534.9044
E: edelia(at)delianet(dot)com