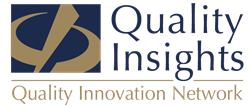 "Working through a five state Network presents an incredible opportunity to improve the quality and lower the cost of health care," Network Director Rebecca Cochran said.
Charleston, WV (PRWEB) September 08, 2015
Quality Insights Quality Innovation Network last month marked the one-year anniversary of its formation as the Quality Innovation Network-Quality Improvement Organization (QIN-QIO) for Delaware, Louisiana, New Jersey, Pennsylvania and West Virginia. Already, more than 1,900 hospitals, physician offices, home health agencies and nursing homes are reaping the benefits of the new network approach to healthcare quality improvement.
In 2014, the Centers for Medicare & Medicaid Services established QIN-QIOs as part of its redesign of the traditional Quality Improvement Organization (QIO) program, which was state-based and focused on both offering quality improvement assistance to providers and performing medical case review of care quality complaints and appeals.
Now QIN-QIOs like Quality Insights focus solely on helping CMS achieve its three-part aim of better care, better health and lower costs, and case review is addressed by Beneficiary and Family Centered Care QIOs.
Until July 2019, Quality Insights is offering free learning and networking opportunities, technical assistance and best practice tools and resources in support of data-driven quality initiatives designed to improve patient safety, reduce harm, and positively impact clinical care locally and across the network.
"Working through a five state Network presents an incredible opportunity to improve the quality and lower the cost of health care," Network Director Rebecca Cochran said. "In addition to the resources we offer, providers can learn from each other across state lines and across settings of care. The year-one response has been overwhelmingly positive and productive."
Many of Quality Insights services come in the form of Learning and Action Networks (LAN), peer groups where participants hear from experts and each other, share successes and lessons learned and have access to customized data reports, showing their performance compared to the Network, national averages and more.
Quality Insights has formed LANs to improve cardiac care, diabetes care, and adult vaccination rates and to lower incidences of healthcare associated infections and healthcare acquired conditions, such as pressure ulcers.
Quality Insights is also offering LANs related to the use of health care technology and quality reporting, and they are forming community coalitions to improve effective communication and coordination of care.
"In part because of the size of the Network and the number of participants, the LANs are proving to be meaningful and useful for participants," Cochran said. "We have more experts and more resources, meaning we are learning and spreading innovation much more rapidly than we would be able to operating individually in five states."
Cochran noted that although the Network offers many learning opportunities, collaborating with existing initiatives and engaging community partners is equally as important. To date, Quality Insights has engaged more than 300 partners.
She cited diabetes education as one example. Quality Insights is partnering with an array of community agencies, clinics and the provider community to offer diabetes self-management education and to train volunteers to teach the classes. Over the past year, approximately 375 people with Medicare have completed the courses, and staff members have trained 60 peer educators who can help spread and sustain the program.
"We're off to a good start, but we have a long way to go," Cochran said. "Our goal is to demonstrate significant improvements in care delivery, and ultimately in the health of the people with Medicare in our five states. Together, I know we can do that."
Health care providers and community partners interested in collaborating with Quality Insights can learn more at http://www.qualityinsights-qin.org.
About Quality Insights Quality Innovation Network
Quality Insights Quality Innovation Network is a collaboration between:

The West Virginia Medical Institute (d/b/a Quality Insights) and its Quality Insights of Pennsylvania and Quality Insights of Delaware affiliate companies, which previously served as the QIOs in West Virginia, Pennsylvania and Delaware
Health Care Quality Strategies, Inc., the previous QIO for New Jersey
eQHealth Solutions, the previous QIO for Louisiana
Quality Insights coordinates learning activities across the Network and provides local assistance in West Virginia, Pennsylvania and Delaware. HQSI and eQHealth Solutions offers clinical and quality improvement expertise to the Network and provides on-the-ground support in New Jersey and Louisiana.
To learn more about the health care quality improvement efforts underway in all five states, please visit the Quality Insights Innovation Network Web site at http://www.qualityinsights-qin.org. To learn more about the new national QIN-QIO approach to health care quality improvement, visit http://www.qioprogram.org.