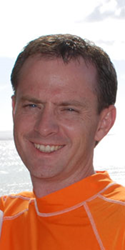 WICKENBURG, AZ (PRWEB) September 08, 2015
Remuda Ranch at The Meadows is pleased to announce that Mike Gurr has joined their staff as Program Director of Family Services. As program director, he will guide group and individual therapy, community workshops, and intensives for families of women and girls with eating disorders. He will bring his experience as a Certified Daring Way Facilitator and a trained Arbinger facilitator to his work.
Gurr received a master's degree from the University of Utah in Exercise and Sports Science with an emphasis in Sport Psychology. He then went on to receive another master's degree from Argosy University Phoenix in professional counseling. He has worked in the mental and behavioral health field for 16 years, the last 13 of which he spent working as director of a residential treatment center for girls ages 13-18, where he developed a variety of workshops for thousands of students and their families from around the world. He has extensive experience treating depression, ADHD, anxiety, bi-polar disorder, low self-esteem, extreme shame, defiance, body image, substance abuse, self-harm, addiction, conflict in relationships, trauma, and attachment.
Gurr takes a total wellness approach to behavioral health. He believes that one needs to look at the mental, physical, emotional, and spiritual well-being of the person to make lasting changes. His background as a fitness trainer, college athlete, and mental coach for elite and Olympic level athletes has shaped his philosophy.
Gurr is also a sought after presenter on various topics such as stress management, shame resilience, communication, leadership, forgiveness, listening, the blame cycle, relationship building, personality types, the power of habits, and compassion.
Remuda Ranch at The Meadows Clinical Director Buck Runyan says that Gurr's unique skill set has already had a positive effect on the program:
"Mike joins Remuda as our Director of Family Services with a 15 year history as a specialist in single and multi-family work. He has made an immediate impact and already shown a keen ability to provide education, comfort, and skillfully applied structure to the patients and families during the Remuda Ranch 35-hour Family Week Intensive. Mike applies his genuine interest in families' success while coordinating Family Services and we're truly fortunate to have a professional of his caliber."
As Program Director of Family Services, Gurr will be in charge of programs that help guide the families of patients through the healing process. During Family Week at Remuda Ranch at The Meadows, families receive an extensive education on eating disorders, communication, and relationships, along with temperament and personality testing. They also have the opportunity to do an experiential learning session with The Meadows Equine Therapy team, and experience a full-day truth and love session where they can put into words the thoughts and emotions that they and their loved one in recovery may not have been able to share with one another before.
Gurr says that he's looking forward to helping to bring families together through the eating disorder recovery process:
"Because the eating disorder creates isolation, it is extremely important they learn how to connect again with others and themselves. We teach them and their families the importance of that support system and during family week talk extensively about what that support will look like, how to create it, and the next steps in the recovery process."
ABOUT REMUDA RANCH AT THE MEADOWS
For more than 25 years, Remuda Ranch at The Meadows has offered an unparalleled depth of care through its unique, comprehensive, and individualized program for treating eating disorders and co-occurring conditions affecting adolescent girls and women. Set in the healing landscape of Wickenburg, Arizona, Remuda Ranch at The Meadows allows for seamless transitions between its structured multi-phase treatment. A world-class clinical team of industry experts examines core issues through a host of proven modalities. Providing individuals with tools to re-engage in a healthy relationship with food – and with themselves – disempowers eating disorders and empowers individuals with a renewed enthusiasm for life. To learn more, visit Remuda Ranch at The Meadows – Behavioral Health Inpatient Facility and accredited by The Joint Commission – at http://www.remudaranch.com.