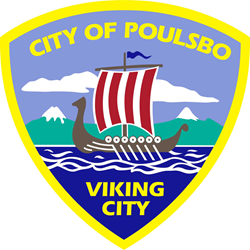 "With that higher score we were immediately able to refund our existing bonds at a much better yield." - D. Booher
Poulsbo, WA (PRWEB) September 10, 2015
The numbers show economic growth is strong in and around Poulsbo, and the City just received a new set of numbers that are the best yet. Or rather, a coveted pair of letters…
At a time when Standard & Poor's is cautiously downgrading many municipalities, Poulsbo has earned a AA Bond Rating—one of the few cities of its size granted that strong vote of confidence.
"For the past few years, market instability has changed the rating standards," explains Finance Director Deb Booher. "We've seen cities default on loans, dip too far into reserves, and not actively partner with their business communities to ensure a strong economy. As a result, S&P stiffened its standards.
"In analyzing our financials and other data, Standard & Poor's cited our 'strong economy,' 'strong management,' 'very strong budgetary flexibility'—which called out our conservative budgeting and generous, untouched reserves—and 'very strong liquidity' among others. We are very excited about the report."
Poulsbo's policy calls for 12 percent of its budget to be held in reserves; currently, the City has 26 percent in reserves.
Why should the rest of us care about a double-A rating? If a person wants to get a home mortgage, a higher credit score means access to better interest rates. For towns and cities, the S&P rating is equivalent to that credit score—the higher the rating, the more marketable the bonds, the lower interest rates—not mortgages, but municipal bonds.
"With that higher score," says Booher, "we were immediately able to refund our existing bonds at a much better yield. In fact, we calculated a savings of nearly three-quarters of a million dollars over the life of the bonds, which is another 18 years. For a city of fewer than 10-thousand people, and an annual city budget of $10.8 million, that's a healthy savings."
Standard & Poor's doesn't just look at the finances of a municipality anymore, but its broader efforts in economic development. Poulsbo's planned development and smart growth factored into the AA rating, and was praised by the ratings services team.
In its "Outlook" segment of the report, S&P noted that "We could raise the rating during the next two years if the city maintains an adequate to strong budgetary performance score and if the city does not increase its debt levels," which Booher sees as a challenge. With the help of the Mayor, City Council, and staff, the City intends to maintain the strong rating. Already Booher and her team are working on a new bond: Poulsbo intends to issue debt for the construction of a new, long-planned Public Works facility.