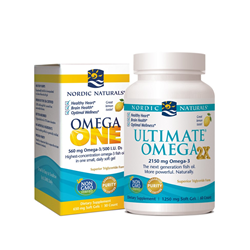 What makes Nordic Naturals' fish oil unique is the combination of very high concentration and superior absorption.
Watsonville, California (PRWEB) September 09, 2015
Nordic Naturals, the #1 fish oil in the United States, has introduced its latest innovation—a breakthrough omega-3 oil. This ultra-concentrated EPA+DHA oil in the highly absorbable, triglyceride form is a first in the natural products channel.
"What makes this fish oil unique is the combination of very high concentration and superior absorption," said Tone Larsen, Nordic Naturals Product Development Manager. Nordic Naturals delivers all products in the 90+% triglyceride form—the form in which omega-3s occur naturally in fish and which research confirms is better absorbed and utilized by the body.
"Obtaining EPA and DHA in higher concentrations in this highly bioavailable form will allow individuals and health care professionals to reduce deficiencies more quickly," Larsen said. "It also gives us the ability to tailor products to meet personalized nutritional needs. For instance, we have developed a small, easy-to-take soft gel that's convenient, but also has high EPA+DHA levels. We're also able to offer higher concentration omega-3s for extra support—but in fewer soft gels."
Friend of the Sea certified, the new oil will be offered in four products that launch this month:
Ultimate Omega® 2X: 2000 mg EPA+DHA per serving for increased benefits in fewer soft gels
Omega ONE: Small, once-daily soft gel, ideal for those who are new to omega-3s
Postnatal Omega-3: First-of-its-kind EPA+DHA blend, with vitamin D3 for new moms
Ultimate Omega® Mini: Now with 75% more omega-3s
"This oil is an exciting achievement," said Joar Opheim, Nordic Naturals CEO and Founder. "We're constantly innovating, pushing the science, pushing the technology in order to continue to deliver on our promise to make the power of omega-3s accessible to everyone."
Founded in 1995, Nordic Naturals is celebrating 20 years of revolutionizing omega-3s—pioneering a new definition of fish oil as it relates to purity, freshness, taste, and dosage. Based in Watsonville, CA, the company also offers complementary nutrients essential to health. Their portfolio, which is distributed to over 35 countries, includes more than 200 products in a variety of flavors and formulations for adults, kids, athletes, and pets. Family owned, Nordic Naturals works passionately to see generations of healthier, happier people around the world—and they're just getting started. Further information is available at http://www.nordicnaturals.com.
###