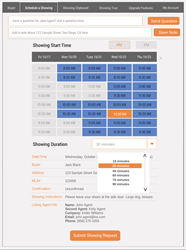 Because they offer a base package of features for all MLS members at no cost, Showing Suite is a unique service offered to MLSs.
San Diego, CA (PRWEB) September 09, 2015
The Greater El Paso Association of REALTORS® (GEPAR) MLS is on their way to free agent tools provided to their member base. Soon every member of the GEPAR MLS will be able to schedule showings through Showing Suite right from the MLS and receive automatic confirmations.
"The Greater El Paso Association of REALTORS® adheres to the highest professional standards expected of a quality realty company. Our Multiple Listing Service is no different. Providing our members with quality education and tools allows them the best opportunity to succeed which, in turn, benefits our community. Showing Suite will fit quite nicely into our association and we look forward to offering their agent tools."

Jason Sanchez, Director of MLS & Technology
Through Single Sign On, GEPAR members will be able to log on to Showing Suite and schedule showings directly in the MLS. A "Schedule a Showing" button will be on each listing providing access the showing calendar linked to each agent's account.
Because they offer a base package of features for all MLS members at no cost, Showing Suite is a unique service offered to MLSs. Listing agents can enable the Showing Calendar on their listings, block unavailable showing times, and confirm appointments with all parties involved via phone, text, or email. Buyer's agents can schedule showings in the MLS, manage buyers in their Showing Suite account, and view all confirmed showings, unconfirmed showings and showing questions on the Showing Clipboard.
Listing Sync, another feature available for the MLS, pulls all the agent's listings into their Showing Suite account saving them the hassle of having to manually enter listing information. Once the listings are imported into the agent's account, Showing Suite keeps all the information organized in one place, allowing easy access to view and make changes. Any changes made to the listing within the agent's account will automatically update in the MLS, saving them time and ensuring that the most up to date information is displayed.
When subscribers upgrade to Showing Suite Ultimate, they are granted full access to the suite of tools available to paid subscribers. Agents can gather feedback from listings with the Home Feedback system, coordinate their schedule with the Showing Calendar, take advantage of the built in Followup CRM system, evaluate performance with satisfaction surveys, give sellers increased transparency with the seller portal, and access it all on the go with the Showing Suite mobile app.
Showing Suite Ultimate also comes equipped with Showing Tours, an interactive tool to map out showings. Buyers' agents have the advantage of providing a detailed showing itinerary for their clients. Instructions from the listing agent, personal reminders, and notes for the client are displayed next to each "road map". This can all be printed, emailed to each party involved, or shared through the Showing Note app.
The Showing Note app lets buyer's agents share all the information from showings with their clients. Like EVERNOTE for showings, this paperless tool shows listing information as well as creates a space for those involved in the showing to take pictures, notes, and videos and share it all with each other.
About The Greater El Paso Association of REALTORS®
The Greater El Paso Association of REALTORS® has been established for over 99 years and is one of the larger board of REALTORS® in Texas. They uphold the highest professional standards, place an emphasis on education, and fight to protect private property rights for the betterment of their community. To learn more visit ElPasoRealtor.com.
About Showing Suite, Inc.
Showing Suite, Inc. develops and implements market-leading tools that allow real estate professionals to sell homes smarter and faster. Since 2001, the company has brought a suite of web-based software solutions for the real estate sector to market, including its flagship product, HomeFeedback®, as well as Home Followup, Listing Sync, Showing Sync®, ForeclosureFeedback®, and Showing Calendar®. Since inception, Showing Suite™ has helped more than 900,000 real estate professionals in the U.S. and Canada retrieve valuable feedback from potential buyers to increase home sales. To learn more visit ShowingSuite.com.
# # #
If you would like more information about this topic, please contact Michelle Costa at 858.270.1055 or email at MichelleC(at)ShowingSuite.com.