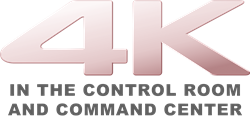 Rockaway, New Jersey (PRWEB) September 09, 2015
In light of the recent focus on 4K compatible control room video wall technology, Activu is pleased to confirm that its solutions are 4K, 8K and even 16K compatible!
Activu's networked technology which runs on commercial off the shelf (COTS) servers and uses Activu's enterprise software to capture computer sources and decode video, has always been compatible with sources of virtually any resolution including a hypothetical 16K which is 16,384 x 8,640 pixels (over 140 million pixels; 4K comprises only around 8.3 million pixels).
Control Room Sources: The Input Side of the Equation
Control room sources fall into two basic categories:

Graphics which may range from an application window on an operator desktop to a SCADA (or 'one-line') that may be in excess of one hundred million pixels in overall resolution running on a remote server or workstation.
Video typically ranges from SD to full HD resolution cameras and cable feeds, though 4K cameras are beginning to reach the market. However, there are already multi-megapixel specialty surveillance cameras and camera arrays available with up to 40 million pixel resolution, which can be software decoded.
Control Room Displays: The Output Side of the Equation
Control room displays also fall into two basic categories:
Standalone LCD panels are today typically HD resolution but a new generation of large 4K LCD walls panels (80"+) is becoming popular for small group environments such as war rooms. Today most graphics cards are 4K compatible. Of course, it is only a matter of time before even higher resolution panels are introduced, which would, in the case of Activu's COTS architecture, at most require a graphics card upgrade.
Matrixed video wall displays are typically no more than HD resolution. Video walls combine multiple moderate resolution displays to create a single large, ultra-high resolution composite display. Individual component displays are unlikely to increase in resolution (i.e. from standard HD to 4K)since their current resolution already matches or exceeds the visual acuity of the viewer at typical video wall viewing distances.
Control room video wall systems are a major capital purchase with a typically 7-10 year anticipated life. 4K compatibility or even 8K is not the future-proofing answer. A network software solution using COTS hardware is compatible with all possible graphics and video sources, now and in the future. This includes enabling the sharing and display of application windows, only possible with a software based visualization solution. On the display side, graphics cards are low cost and simple to upgrade if ever required.
For a more in-depth exploration of this topic, consult Activu's whitepaper "4K in the Control Room."
# # #
About Activu
Optimal incident response requires that the most relevant, real-time, actionable information is presented to decision makers and stakeholders wherever they are. That is the Activu difference.
Activu is a software and services company specializing in mission-critical decision support through the active selection, management, sharing and display of visual information within the control room and beyond. Activu's visualization platform includes tools for managing, distributing, recording, collaborating and displaying information within and beyond the enterprise: person to person, site to site, on and between desktops, display walls and mobile devices. Activu's Systems Group is the largest control room and command center video wall integrator in North America. For additional information, visit http://www.activu.com.