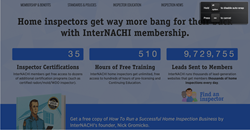 Boulder, Colorado (PRWEB) September 25, 2015
Award-winning company InterNACHI, the International Association of Certified Home Inspectors, has just topped 140 million hits on their website nachi.org. Operating in 65 countries and nine languages, InterNACHI is the inspection industry's largest provider of education and training.
"We are very proud of the achievements of the company and glad that the site has been seen by so many," says InterNACHI creator Nick Gromicko. "I'm in awe. I can hardly believe what InterNACHI has grown into."