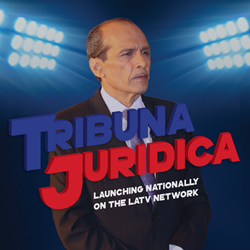 "LATV continues its commitment to the Latinos living in the US with topical programming like Tribuna Juridica, which reflects the growing immigration issues that affect many of us and our families"
Los Angeles,CA (PRWEB) September 08, 2015
Tribuna Juridica is hosted by Roland Ulloa, an experienced immigration lawyer based in Los Angeles, along with a panel of experts from a broad spectrum of legal, political, and journalistic fields.
Already at the forefront of socio political programming with Entravision's weekly show from Washington D.C., Perspectiva Nacional, LATV now cements its place as the number one hub for the Latino voice with Tribuna Juridica, a pilot program airing Saturday, September 12th at 7PM EST / 4PM PST.
"LATV continues its commitment to the Latinos living in the US with topical programming like Tribuna Juridica, which reflects the growing immigration issues that affect many of us and our families," commented Roland Ulloa.
About LATV:
LATV is the only remaining Latino-owned TV network in the Hispanic television space. Its programming primarily targets U.S.-born Latinos and the coveted bi-cultural 18-49 Latino demographic, with content that features a combination of originally produced shows as well as licensed content that has never before been seen in the U.S.
LATV's fully-owned subsidiary, American Latino Syndication, produces and distributes "American Latino" and "LatiNation," two award-winning, Latino-themed TV programs that are broadcast on general market stations in over 100 cities nationwide. For more information, please go to http://www.LATV.com and http://www.AmericanLatino.tv.