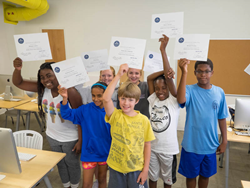 "Offering the expanded program year round will allow CODECcamp Kids to inspire a new generation in the Charleston area,"said Valerie Sessions
Charleston, SC (PRWEB) September 09, 2015
Charleston, South Carolina – The Charleston Digital Corridor is pleased to announce that the CODEcamp Kids Summer 2015 pilot classes are being expanded to include year-round programming starting November 7, 2015. Program instruction will be lead by CODEcamp co-founder and Jack Russell's Chief Technologist, Tom Wilson. Classes will be held on alternating Saturdays at the Digital Corridor's Flagship2 tech incubator in Downtown Charleston.
The CODEcamp Kids curriculum is targeted at children between the ages of 10-14 years and will span over four alternating Saturdays with each day-long session running from 9:30am until 3:30pm. Classes are designed to teach the essentials of building websites (HTML, CSS, Javascript) plus a final fun-filled "build your robot" class. The initial class size is limited to ten students.
"The CODEcamp Kids summer pilot program was an excellent extension of the CODEcamp curriculum provided by the Charleston Digital Corridor," said Valerie Sessions. "My 8 and 10 year old children participated in the program and I was thrilled at the level of instruction - its amazing what children can learn and do when it comes to programming. These are professional level skills being taught at age 8 and 10!! Offering the expanded program year round will allow CODECcamp Kids to inspire a new generation in the Charleston area."
The CODEcamp Kids summer program, which hosted 35 children, provided the Digital Corridor with interesting insight including an almost equal number of boys and girls, 51% and 49% respectively, and just over 10% were minority students.
"Our pilot program demonstrated what a diverse 21st century workforce could be like with a dedicated industry and community-supported effort", said Digital Corridor Director, Ernest Andrade. "Our goal is to reserve 25% of the CODEcamp Kids seats for under-privileged children which we expect to be supported by local individuals and businesses through our 'Level Up' initiative."
###
About CODEcamp Kids
CODEcamp Kids' goal is to empower Charleston youth to explore their creativity and innovation by learning the fundamentals of web development. More: http://www.chscodecamp.com