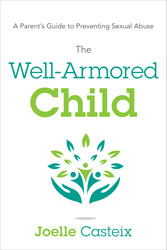 Joelle Casteix demystifies child sexual abuse
Newport Beach, CA (PRWEB) September 10, 2015
Sexually abused children can suffer for a lifetime. It's even worse for a victim when the topic is taboo, the predator is family, or denial and shame beat out self-confidence and justice. But this vicious cycle can stop when parents, educators and caregivers empower themselves and their children.
In the new book, The Well-Armored Child: A Parent's Guide to Preventing Sexual Abuse, now available on Amazon.com and fine bookstores, Joelle Casteix, the nation's leading "in the trenches" expert on the prevention and exposure of child sex abuse and cover-up, will help parents understand how predators "groom" children, why many of our trusted institutions have covered up abuse, and how to empower children without shame, fear, or inappropriate discussions of sex.
"By armoring your child, you can raise a confident child who is safer and part of a safer community where abuse is reported, predators are put behind bars, and victims of abuse are embraced and allowed to heal," says Casteix.
Praise for THE WELL-ARMORED CHILD:
"As a nationally-recognized expert on child safety, Joelle Casteix has made protecting kids her life's work. She is also a gifted writer and communicator. In these pages you will learn the wisdom, intelligence, and perspective you need to both understand the challenge of making the world safer and the tools to do the job. "

Michael D'Antonio, Pulitzer Prize winner and author of Hershey, Mortal Sins, and The State Boys Rebellion
"An essential manual for any parent, grandparent, aunt or uncle, "The Well-Armored Child" teaches adults how to keep their kiddies away from sexual abuse in a manner both informative, down-to-earth, serious, yet humorous."
Gustavo Arellano, editor of OC Weekly and author of ¡Ask a Mexican! and Taco USA
"Joelle offers tools and strategies that every parent can be comfortable using to help keep their child safe. resilient, and loved."
Jeff Dion, National Center for Victims of Crime
Casteix, a victim herself, was sexually abused by a trusted adult when she was a teenager. When her own child was born, she saw a real need for parent education and empowerment. As a result, she developed the book that will help parents take effective action to prevent their child from becoming another statistic.
The Well-Armored Child focuses on empowerment, showing parents how communication, strong boundaries, and authentic self-esteem are the building blocks for child safety. With a deep understanding of abuse in religious institutions, Casteix also brings respect for parents' roles and religious beliefs in developing understanding for body boundaries, appropriate adult relationships and open communication.
Contact: Kristi Hughes, SMITH Publicity 856-489-8654 x322, Kristi(at)smithpublicity.com