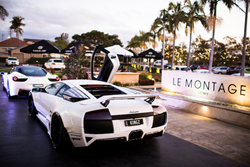 We've been hosting luxury weddings at Le Montage since the Navarra family transformed the former Apia Club in the 1990s
Sydney, NSW (PRWEB) September 15, 2015
Hospitality company, Navarra Venues recently showcased one of its iconic venues and flawless events management expertise at Sydney's Wedding of the Century.
While the wedding procession of Salim Mehajer and his wife Aysha attracted the headlines by literally stopping traffic in and around Lidcombe, the bespoke wedding events crew at Le Montage in Lilyfield pulled out all the stops to deliver a sumptuous wedding reception with distinction.
This iconic waterfront venue formed a glittering backdrop to the spectacle of the wedding party motorbike motorcade before the bride and groom made their grand entrance accompanied by 40 drummers.
Befitting of such a lavish affair, the wedding banquet was also a showcase of culinary excellence with Arabic mezze platters, fresh seafood, and a seven tiered wedding cake. The Sarah Grand Ballroom provided an elegant space to bring the dream wedding to life and could easily accommodate the extensive floral wall backdrop, custom crystal chandeliers and white personally monogrammed dance floor.
Commenting on this one of a kind event, Esra Kaya, Venue Manager at Navarra Venues, said, "We've been hosting luxury weddings at Le Montage since the Navarra family transformed the former Apia Club in the 1990s, but we've never orchestrated one quite like this. It was an exercise in military precision requiring organisation, teamwork, and coordination of the very highest standard for everything from the big picture vision right down to the very finest detail."
About Navarra Venues
With more than 40 years' experience, Navarra Venues manages four prestigious Sydney venues including Le Montage in Lilyfield, Curzon Hall in Marsfield, Conca D'oro in Riverwood, and Oatlands House in Oatlands.
At each of these unique venues, Navarra's dedicated events management team provides creative, conceptual event design and planning, and delivers distinctive, highly polished weddings, corporate and private events.