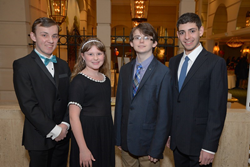 Children with learning disabilities frequently have significant gifts that enrich their lives and the larger community's.
Westport, CT (PRWEB) September 09, 2015
Smart Kids with Learning Disabilities received a $30,000 award from the Laurence W. Levine Foundation. The funds will support SKLD's public outreach activities, such as the expansion of its website with fresh, timely content and graphics. The monies will also help the nonprofit's outreach efforts via educational and parent support programs as well as social media campaigns.
"We believe, as do most experts, that parents are the key to a child's success," reported Jane Ross, Executive Director of Smart Kids with Learning Disabilities. "As parents, we must have confidence in our child's ability to learn and do everything in our power to find out about our children's difficulties, and what is needed to help them succeed."
She added. "Children with learning disabilities have repeatedly been proven to be as capable as their peers. It is up to us, as parents, to speak up in support of these children who frequently have significant gifts that will enrich their lives, and the larger community's."
Each year, SKLD sponsors the Youth Achievement Awards in recognition of students with learning disabilities who defy the odds, working hard to succeed in school and make a contribution to their community. Some of the 2015 YAA winners were:

Zachary Milestone of Skillman, New Jersey, who is dyslexic, excels in math, science and Mandarin. He did summer lab work on Alzheimer's research for Rutgers Medical School. He is the 2015 Pewter Medalist in Ice Dancing for the U.S. Figure Skating Association.
Christopher Lancaster of Clarksville, Tennessee, is an honor student, despite his struggles with dyslexia and dysgraphia. His state's governor recognized him for his Eagle Scout project, a bike trail developed and built for the Wounded Warrior Unit in Kentucky.
Sean Zyvoloski of Sauk Rapids, Minnesota, struggles with dyslexia, dysgraphia and ADHD (Attention Deficit Disorder). In high school, he was a three-sport athlete, lettering in football, weight lifting and baseball. He also tutored young children, coached football camps and organized the area's first library for Somalian immigrants. Today, he is a freshman, playing football, at Central Lakes College in Brainerd, Minnesota.
At its next public outreach event, SKLD will feature Anne Ford, author of "The Forgotten Child: If She's So Special, What Am I?" The event, open to the public, will be held from 9:30 am to 12:00 pm on Thursday, October 8, 2015, at the Norwalk Inn & Conference Center in Connecticut. Tickets are available on SKLD's website, What We Do section.
Smart Kids with Learning Disabilities, Inc.
Smart Kids with Learning Disabilities, Inc. is a Westport-based nonprofit organization dedicated to empowering the parents of children with learning disabilities (LD) and attention deficit disorders (ADHD) via its educational programs, award-winning website and blog, and free e-newsletter at http://www.SmartKidswithLD.org. The organization also educates the public about these children's gifts and talents. Connecticut Governor Dannel Malloy is an Honorary Board member and Henry Winkler, Golden Globe award-winning actor, director and author, serves as the organization's Honorary Chairman.
For more information, visit http://www.SmartKidswithLD.org